Man Wakes Up To Find Massive 13-Foot Snake Slithering In Garage
A man in Thailand woke up to find a massive 13-foot-long snake slithering in the garage of his home.
Suchart Suwachart woke up around 1 a.m. Monday after hearing his pet dog barking. He walked to the garage and was shocked to discover the huge reptile. Without wasting a moment, the 63-year-old immediately called animal control. The incident took place in the city of Pattaya.
"I heard my pet dog barking furiously in the garage where he sleeps while I was relaxing inside. I came out and discovered the python. That is out of my league to handle so I immediately called rescue workers for help," Suwachart told Pattaya News.
The animal control officers arrived at the scene and caught the reptile following a 15-minute rescue operation. They identified the snake as a python, and said it weighed 66 pounds, Pattaya Mail reported.
The snake was then taken to an uninhabited forest and released. The snake catchers confirmed no one, including the reptile, was injured in the incident.
A photo released by the local media showed the snake wrapped around the pipes in the garage. Another picture showed the snake catchers stretching out the reptile for documentation. It wasn't clear as to how the reptile got into the garage.
Thailand is home to three species of python - reticulated python, blood python, and Burmese python. The longest among them is the reticulated python, which can grow up to 30-feet in length. While the reticulated python can also be spotted in cities such as Bangkok, the Burmese python is usually found in lightly wooded areas.
Last year, International Business Times spoke to a snake expert to get a clear picture as to why snakes end up in unusual places such as bedrooms and kitchens.
"Smaller species often get brought inside the home by a cat, larger species end up inside by accident through cat/dog doors and/or flyscreen holes due to temperature. It may be too hot outside so they need to cool off inside on tiles. They also sneak in through doors and windows that are left open for longer than needed. Some species of snakes can slither up the pipework to your toilet /sink/shower, this often happens by accident too, they either were looking for water or they got into a disagreement with a cat and bolted into the sewage," Joshua Castle, a snake catcher from Brisbane, Australia, told IBT.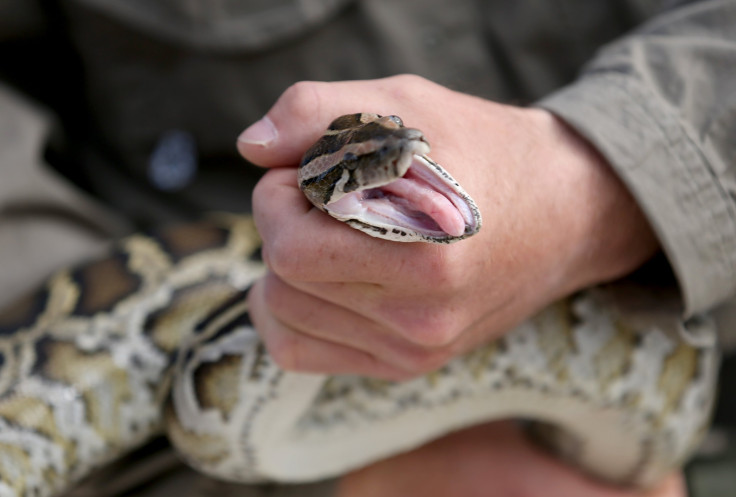 FOLLOW MORE IBT NEWS ON THE BELOW CHANNELS