Manchester United Transfer News: Cristiano Ronaldo, Kevin Strootman, Kevin Grealish In? Juan Mata Out?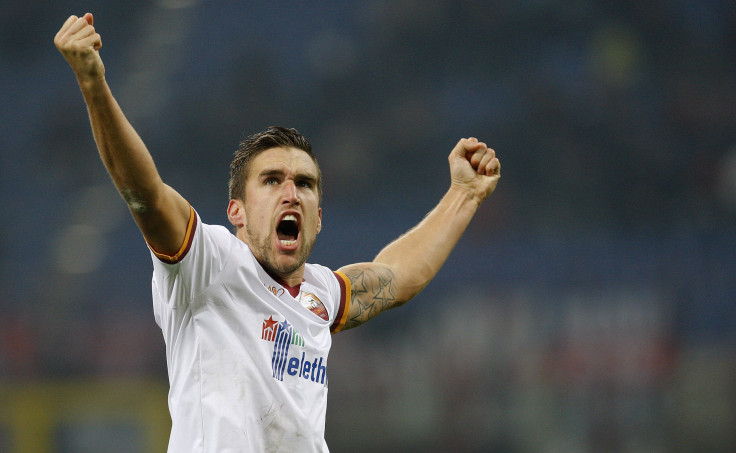 More than a week after the summer transfer deadline closed, Manchester United have been linked to some notable names, though the likelihood of a major deal transpriing in the winter seems rather slim. The Red Devils recently added Radamel Falcao and Angel di Maria in a late push before the Sep. 1 deadline, yet it remains to be seen whether they will have the resources to make any similar deals.
Roma have ruled out selling United target Kevin Strootman in the January transfer window. The midfielder, who was made a temporary captain of the Netherlands by now United manager Louis van Gaal, was frequently linked with a move to Old Trafford throughout the summer. While no bid was forthcoming as Strootman continued his recovery from a serious knee injury suffered in March, it has been widely reported that United will make an approach in January after he has returned to action. Roma, though, which purchased the 24-year-old just last summer, insisted they have no intention of losing him.
"We're extremely determined to keep him," sporting director Walter Sabatini said at a news conference on Thursday, according to Roma's official website. "He is a very important player for us and when he returns I'm sure we'll see him back to his best. He's a problem for other clubs because he's not their player -- he belongs to us. I can't tell you how much he's worth because he's not for sale and you only give players valuations once they're on the market. He's an incredible player for us, but you never know in football. I'm sure that he'll get some offers, but we will do everything in our power to hold on to him."
That resolve may well be tested, given that Manchester United failed to sign Arturo Vidal in the summer, although the versatile Daley Blind did arrive late on. Speaking after the release of the club's financial results on Wednesday, executive vice chairman Ed Woodward did not rule out the possibility of further transfer activity in January, despite having spent around £150 million on new arrivals this summer.
"We feel we have a stable number in the squad and I wouldn't have expectations around January, but if there is a willingness from the manager to do something and the opportunity arises we will look at it," he said, reports BBC Sport.
The Telegraph has put out a story that more money will be made available in January and that United could well now have the ability to make a world-class signing every year. Such statements will only add to recently revived speculation that there will be a return to Old Trafford for Cristiano Ronaldo. The Daily Express claimed this week that United have already earmarked £60 million to make a bid for the Portuguese star, who left the club to join Real Madrid for a then world record transfer fee of £80 million in 2009. While it is also reported that Chelsea are interested, Ronaldo's comments continue to suggest that if he does leave Real Madrid it will be to move back to Manchester United.
"I love Manchester," he said recently. "Everyone knows that - I have said it many times. Manchester is in my heart. I left many good friends there, the supporters are amazing and I wish I can come back one day."
Yet, although Ronaldo recently criticized Real Madrid's transfer dealings this summer, in particular the sales of Di Maria and Xabi Alonso, there appears little prospect of him leaving any time soon. Ronaldo only signed a five-year contract a year ago to make him the then highest-paid player in the world. He will also be 30 years old next summer, meaning it is hard to envisage United paying a fee that would convince Madrid to sell. In fact the London Evening Standard has reported that Madrid will publicly rule out his sale this week.
At the youthful end of the age scale lies Aston Villa starlet Jack Grealish, who the Daily Mirror reports both Manchester United and Chelsea are pursuing. The midfielder, who turned 19 this week, will be out of contract next summer, yet it is believed that Villa have opened talks over a new deal and that the player is inclined to stay with his boyhood club.
Given the number of recent arrivals and competition for places now in midfield and forward positions at Old Trafford, it could be that more players are compelled to leave the club. One player whose place may now be under threat, despite being made the club's then record signing just in January, is Juan Mata. And Italian publication Tuttosport has reported that Juventus could make a €30 million (£24m) bid in January.
© Copyright IBTimes 2023. All rights reserved.