Manchester United Transfer News: Lewandowski, Pirlo, Mata And Coentrao Discussed In Latest Rumors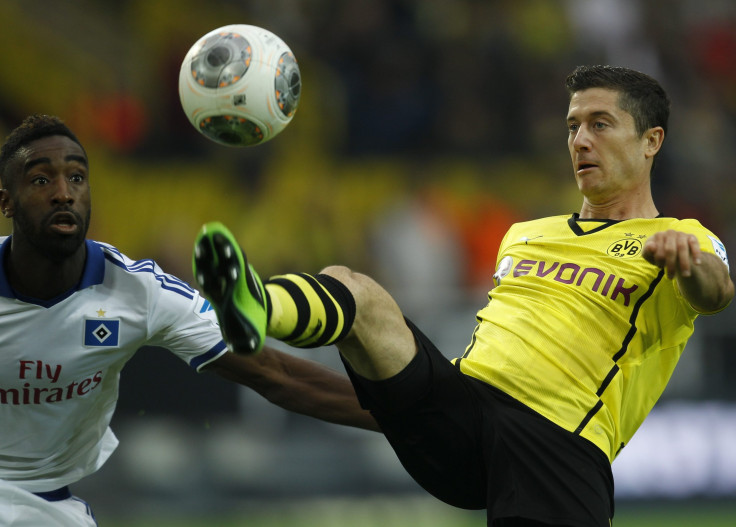 Robert Lewandowski has backtracked on remarks claiming that he will sign a contract with Bayern Munich in January, but the Manchester United target still appears set for the Allianz Arena. Lewandowski has been on United's radar for more than a year, with an approach having been made in the summer of 2012. But Lewandowski has since resolved to join Bayern.
A move is believed to have been agreed upon over the summer, but Borussia Dortmund refused to sell him to their rivals and stated their readiness to let the final year of his contract run down. Dortmund's stance had raised hopes that a club outside Germany, like United, could swoop in. After Dortmund's 2-0 win over 1860 Munich on Tuesday, Lewandowski was asked whether he could officially announce his move to Bayern in January.
"Yes, because I can officially sign the new contract in January," he responded, according to ESPN.
The 25-year-old later modified his comments. "Looking at the video [of the interview] again, I became frightened of it," Lewandowski told Sport Bild. "What I really wanted to express right after the game was that I will be able to pen a new deal in January at the earliest.
"I only wanted to answer the question of when I will finally be taking a stand on my future. Like I have said many times, I want to leave Borussia Dortmund in the summer. Everything else I can only say in January."
Despite his latest words, barring some unforeseen and extraordinary developments, it still appears that Manchester United and the rest of his numerous suitors can forget about landing the Poland international come next summer.
In a new link, Old Trafford is claimed to be a potential next destination for legendary Italian playmaker Andrea Pirlo. Likely sparked by Pirlo walking straight down the tunnel when substituted in Juventus' win over Hellas Verona on Sunday, the Daily Mail speculates that the 34-year-old may not be offered a new contract with the Italian champions. Pirlo's actions received a sharp rebuke from his manager, who said that such behavior will not be tolerated by any player.
Pirlo's contract expires at the end of the season and Juventus' general director Beppe Marotta has said that discussions over a new deal have been put on hold.
"It's a topic we are facing with a great sense of responsibility, we agreed to hold talks in February and March," he told Sky Italia, according to Italian soccer journalist Adam Digby. "We are very happy with Pirlo, of what he has done and what he has contributed to Juventus. The door is always open, but it also depends on him and what he wants to do."
The Daily Mail believes that United could relish the chance to sign a player with Pirlo's passing ability. His future, though, is likely to be decided by what happens the rest of the season. Competition in Juventus' midfield is fierce due to the continued progression of former United youngster Paul Pogba.
Manchester United are also said to be monitoring the situation of Juan Mata. The Spaniard has found his opportunities limited since Jose Mourinho began his second spell with Chelsea, with the Portuguese coach challenging Mata to prove his worth.
There was talk in the summer that United were intrigued by the idea of an exchange deal involving Mata and Wayne Rooney, and the Daily Mail believes the interest of David Moyes remains. However, if Mata's time at Chelsea does come to an end, there will be a host of competition for his signature from the likes of Barcelona, Atletico Madrid and Arsenal. Any deal in January appears unlikely, given that the 25-year-old will be cup-tied for the Champions League.
Moyes could reportedly move for another player on his radar during the summer. According to Talksport, Manchester United will try once more to bring Real Madrid left-back Fabio Coentrao to Old Trafford in January. Having failed to land Leighton Baines from Everton, United made a deadline-day move to try and secure Coentrao to provide competition for, or even potentially replace, Patrice Evra.
The Portugal international's desire to leave the Bernabeu was well known, but United's approach failed as they left it too late for Madrid to secure their preferred replacement. Coentrao made his first appearance of the season for Madrid on Wednesday and it remains to be seen whether he will integrate harmoniously back into the squad.
© Copyright IBTimes 2023. All rights reserved.