Manchester United vs. Tottenham 2015: Early Prediction, Preview For Premier League Match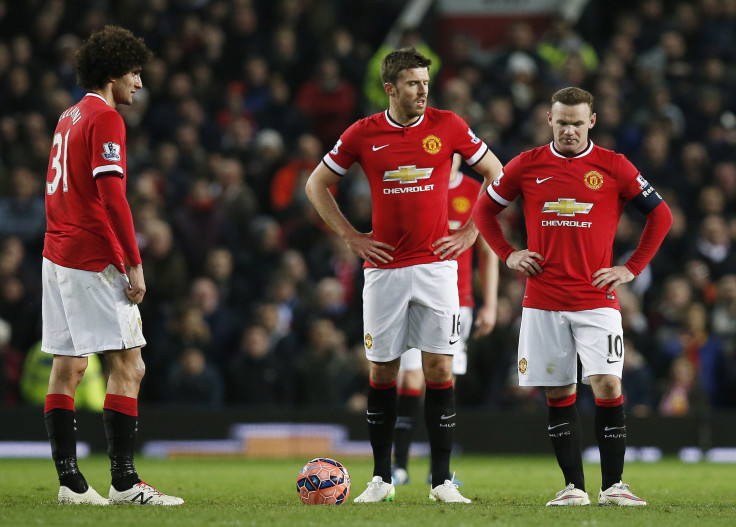 Manchester United suffered bitter disappointment when exiting the FA Cup after a defeat on home soil to Arsenal on Monday night, but it is their next two matches which are likely to be far more significant in determining the success of Louis van Gaal's first season in charge.
A place in the FA Cup semifinals and a shot at a first trophy since Sir Alex Ferguson's departure would have been met with plenty of celebration, yet no one at Old Trafford is under any doubt that it is a return to the Champions League which matters most. The results of matches in the next 10 days against Tottenham and Liverpool could prove vital to that objective.
Both teams are joined with United in a group of five teams separated by as many points in a scrap for the final two places in the Champions League next season. First up is a meeting with a Spurs team three points and two places behind fourth-place United at Old Trafford on Sunday. It is a fixture that for so long represented close to an automatic three points for the hosts, with almost 23 years passing since Tottenham last won at Old Trafford prior to two seasons ago. It was a contest that encapsulated the gulf between the sides in mental strength as much as ability. That contrast is perhaps best summed up by a quote from Roy Keane's recent autobiography in which he describes a team talk given by Ferguson ahead of one of Tottenham's forlorn visits to Old Trafford. "Lads, it's Tottenham," were the only words Ferguson uttered, and the only words that needed to be uttered.
Not that it was just Tottenham who crumbled at the Theatre of Dreams. During the first two decades of the Premier League the majority of the teams Manchester United came up against essentially began the match already in arrears, such was the aura of dominance around the club. With Ferguson's departure that quality vanished with remarkable swiftness under David Moyes, with Tottenham one of the beneficiaries in coming away with a second-straight win at Old Trafford last season.
Under Van Gaal there have been signs of that sense of invincibility returning -- a late equalizer against Chelsea earlier this season and the team frequently earning points when the performance scarcely warranted anything. Yet that latter quality only looks positive if the team is then capable of raising their performance levels in the biggest games against tougher opposition. It is why, perhaps more than simple elimination from the FA Cup, the defeat to Arsenal was such a concern. Arsenal, like Tottenham, another team that were for so long overawed at Old Trafford, came away with a victory despite not doing an awful lot.
What was an impressive record of two defeats in 22 matches is now two defeats in four. At the same time the status of lucrative loan signing Radamel Falcao is under more scrutiny than ever, as are the performances of record signing Angel di Maria. The Argentinean was sent off against Arsenal and will miss the match with Tottenham through suspension. What is undeniable is that, with games against four teams in the Premier League's top six -- Manchester City and Chelsea, as well as Tottenham and Liverpool -- to come in the next five weeks, United will have to improve if they are to remain in the top four.
Perhaps crucially, they are the types of matches that no longer appear to hold any fears for Tottenham. For so long, as Keane's quote suggested, carrying the tag of being mentally fragile, Spurs now look a different proposition under Mauricio Pochettino. Already in 2015, they have beaten two of the teams they once wilted most regularly against, Chelsea and Arsenal. And, while they lost the Capital One Cup final to the former two weeks ago, they have responded with vital hard-fought wins over Swansea City and Queens Park Rangers to remain in the Champions League hunt. Given that Pochettino has so far been given little license to reshape a squad high on numbers but low on quality in certain areas, it is a credible achievement in the former Southampton manager's first season in charge at White Hart Lane.
As has been the case through much of this season, though, their hopes of making it three wins on the bounce at Old Trafford and moving level on points with United in the Premier League are likely to depend heavily on the performance of surprise talisman Harry Kane. The young England forward struck twice against QPR to take his goal tally for the season to 25 in all competitions.
Prediction: Manchester United had been getting by in spite of disjointed performances for some time now, before Arsenal exposed their flaws. Still uncertain in defense and lacking a clear method to break teams down going forward, other than using the size and physicality of Marouane Fellaini, Van Gaal has to get things right soon or United will miss out on the Champions League for a second consecutive season. Tottenham, with their industry in midfield and through Kane upfront, have what it takes to throw a major spanner in United's ambitions and do wonders for their own. They may not be too disappointed, though, to take a share of the spoils.
Manchester United 1-1 Tottenham
Kickoff time: Noon ET
© Copyright IBTimes 2023. All rights reserved.