March Madness 2016 Championship Ratings Down 37 Percent From 2015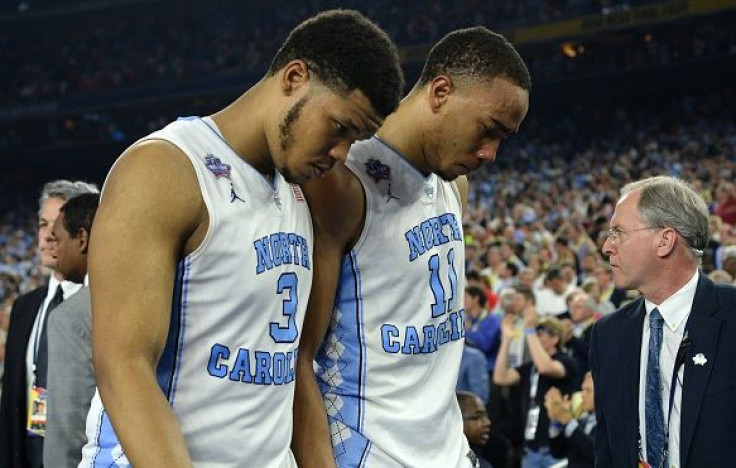 On Monday night, for the first time, the culmination of the NCAA Men's Basketball Tournament was telecast via cable, rather than a broadcast network, running across Turner networks TBS, TNT and truTV. "The difference between broadcast and cable is almost non-existent anymore," Turner Broadcasting President David Levy told Adweek just after the start of March Madness.
Turns out there is a difference between cable and broadcast audiences, after all. The humdinger of a national championship game between North Carolina and Villanova (won by Villanova on an unbelievable last-second three-point shot) drew an average audience of 17.8 million viewers across TBS, TNT and truTV.
That's down a nasty 37 percent from 2015's final matchup between Duke and Wisconsin, which clocked in with 28.3 million viewers. Even at its most-watched point, in the final moments of the game, the 2016 audience peaked at 22.3 million. It's the fourth-lowest-rated National Championship Game in the men's tournament's televised history.
A little perspective, though: Everyone in the TV industry anticipated some sort of drop — not only would the game not be airing on a broadcast network, which has far more intrinsic reach, but the ratings for 2015's title game shattered records and was up 33 percent over 2014's final. So while a 37 percent dip is by no means a good thing, 2016 is off 2014's numbers by only about 16 percent.
That's also a lot of eyeballs for Turner, which is attempting to get away from the public perception of TNT as the ampersand network (home of shows like "Rizzoli & Isles," "Franklin & Bash" and "King & Maxwell") and TBS as merely the home of "The Big Bang Theory" repeats. Consequently, the cable conglomerate devoted several minutes of precious ad inventory — mostly during the halftime show — to introducing audiences to the slick new TNT and TBS brands.
Rather, the trouble might come once total viewership for the tournament is tallied. Turner and CBS, which jointly produce and air the entirety of March Madness, could be facing a 25 percent difference between the ratings they promised advertisers and the ratings they actually delivered, according to media buying sources.
As for streaming, Turner says 3.4 million streams were started through the NCAA's March Madness Live portal, about the same as last year. However, that 3.4 million can't be compared to Nielsen TV ratings, which are a per-minute average.
CBS and Turner partnered in 2011 to air all the games in the NCAA tournament; with this partnership came the stipulation that the two would alternate airings of the national championship. This is the first year Turner aired the final game exclusively, with a regular telecast on TBS and "Team Streams" featuring biased commentators on TNT and truTV.
© Copyright IBTimes 2023. All rights reserved.
FOLLOW MORE IBT NEWS ON THE BELOW CHANNELS