March Madness 2016: How CBS And Turner Made The NCAA's Basketball Playoffs Bigger Than NBA Playoffs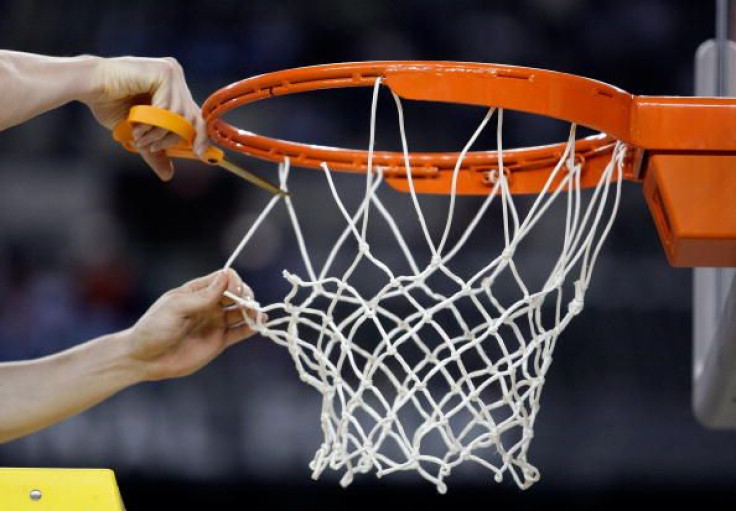 By now, your March Madness bracket has been filled out, you've planned your viewing schedule and you may even have discovered what the heck channel number truTV is. The NCAA Division I Men's Basketball Tournament has begun, with tens of millions of viewers watching games over the next three weeks to see who ultimately wins the Big Dance.
With big ratings come big dollar signs. March Madness has generated $8.2 billion in TV ad revenue since 2006, according to research firm Kantar Media; 2015's tournament, in which Duke won its fifth title, brought in $1.19 billion. (Neither Turner nor CBS comment on ad sales figures.) Outside of the Super Bowl, it's the ad world's biggest annual sports bonanza.
You can't quite compare the business of March Madness to a one-day free-for-all like the Super Bowl, which still commands the biggest audience and highest premiums on TV, but per Kantar's estimates, the NCAA's version of the postseason only lags behind the NFL's postseason in ad revenue, and outdoes the NBA's postseason, which runs from April through June.
In fact, NCAA men's basketball has consistently beat the tar out of the NBA in postseason TV ad spend since 2011, when CBS partnered with Turner to show all 67 of the tournament's games nationally. Prior to that, CBS showed much fewer games nationally. The change allowed for the national ad dollars to flow in, and flow they did, goosing TV spend an additional $307 million from 2011 to 2012.
Exact viewership for the NCAA championship game depends somewhat on the teams playing, but as with most other live sports, audiences are growing steadily, and last year's Duke-Wisconsin final drew a record 28.3 million pairs of eyeballs. For comparison: The sixth and last game of 2015's NBA Finals, between the Golden State Warriors and the Cleveland Cavaliers, drew 23.25 million viewers on ABC. ESPN's 2016 College Football Championship (which isn't run by the NCAA) in January drew a TV audience of 25.7 million.
There are a couple factors at play that help boost the tournament's numbers. "March Madness is a little more protected than other sports' post-seasons," says Jon Swallen, Kantar Media's chief research officer. The NBA is still in its regular season — and viewership for its lengthy postseason tends to only really gather steam in the last few weeks — pro and college football are done, and Major League Baseball won't officially start until the night before the NCAA championship game.
Some of the tonnage in dollars and eyeballs is due to the sheer number of March Madness games (67). But there is something quintessentially American about the whole affair that seems to draw in even sports agnostics.
"It really is a cultural event as much as it is a sporting event," says Will Funk, senior vice president of Sports Integration and Business Development for Turner Sports Ad Sales. "You don't have to be a college basketball fan. Maybe you just filled out a bracket. Maybe one of the schools is in your hometown. Or maybe you are an alum, a fan, of one of the schools."
This year, for the first time, the championship game will air only on TBS, the first time it will only run on a cable network and the culmination of a six-year process that began with CBS, originally the sole broadcaster of the tournament, partnering with Turner in 2011.
While audiences may have to adjust to the channel change — although, several industry insiders point out, the number of viewers who will actually think of it as an adjustment is up for debate, as people tend to watch games, rather than channels — for the Turner and CBS production and sales teams, it's just business as usual.
"When it went from just being on CBS to Turner and CBS, our proposition was that there would be no difference between a game airing on a Turner network or CBS," Funk says. That means sharing crew and commentary teams regardless of whether a game is on truTV or CBS, and though "One Shining Moment" will indeed be airing on TBS instead of CBS, the people on both sides of the camera for the championship game will be a blended team, including CBS' Jim Nantz and Turner's Grant Hill.
Some of the indifference as to which channel airs the championship stems from audiences no longer even caring about what screen they're watching on. In 2015, Turner Sports saw 17.8 million hours of live video watched through its March Madness Live app, and 60 percent of that streaming is now done on phones or tablets, compared to just 30 percent four years ago.
Similarly, for advertisers, it's no longer just about TV. Four years ago is also when Turner and CBS started charging for streaming ads. "The dollars follow the eyeballs," Funk says.
But the commitments go far beyond just ads in broadcasts and streams. Some marketers go in on big packages that include a presence on myriad screens — Allstate and LG are official corporate sponsors for all of Snapchat's March Madness content — and event sponsorships, like the March Madness Music Festival and fan gathering just before the Final Four starts in Houston on April 2.
Turner and CBS are making money from just about every second of air time and every pixel of your screens: If you're streaming on the job, there's a "Boss Button" that pulls up fake work-like documents and is, of course, sponsored — by Sony's TV-over-the-internet service PlayStation Vue, which just launched nationally.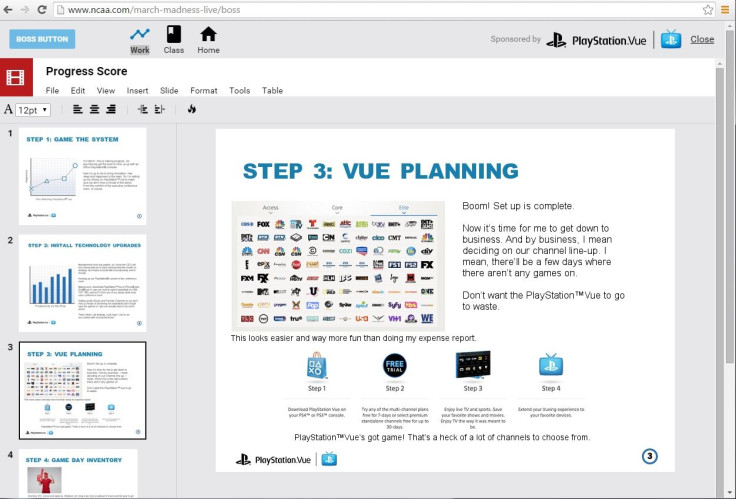 The NCAA's corporate "partners" like Coca-Cola and AT&T are shelling out tens of millions of dollars (depending on the level of sponsorship) for the privilege of having announcers say their names in conjunction with the NCAA tournament, far beyond even the regular large investment that is advertising during a massive live sporting event.
It is an investment, and those corporate sponsors keep making it because they do see a return, particularly if you're talking about the TV spots. And though you may complain on Twitter about seeing the same Capital One or AT&T commercial ad nauseum, your brain might not be as sick of it as you think, according to Nielsen Consumer Neuroscience's chief neuroscientist, Dr. Carl Marci.
The assumption is that the more times someone sees a specific ad, the more they ignore it when it comes on. "We've found the opposite, with March Madness ads," says Marci. With commercials that play off the tournament or even just use basketball stars like Charles Barkley, the more you see the spot during the tournament, the more likely you are to look at it again and remember it (up to a point). "It's almost as though it's the one constant throughout the tournament, sort of a familiar friend," Marci says. Your friend just happens to be trying to sell you a bunch of stuff.
© Copyright IBTimes 2023. All rights reserved.