Mardi Gras 2017 NYC Events: Where To Celebrate Fat Tuesday In New York City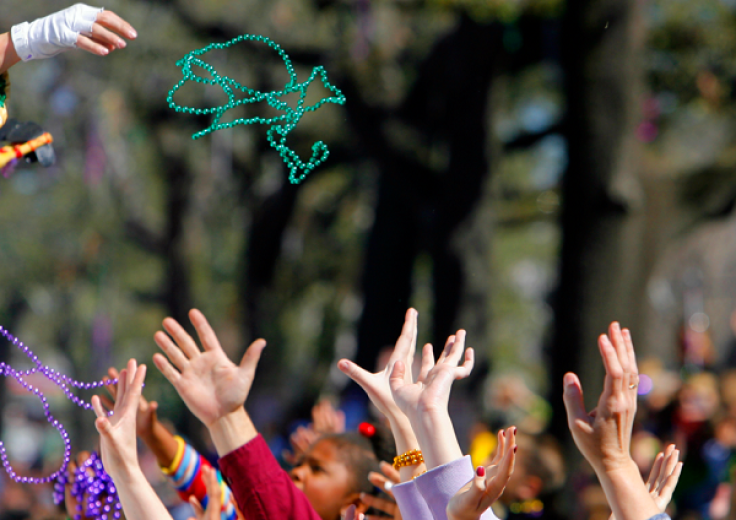 Party animals in New York City don't have miss out on all the Mardi Gras fun just because they're not in New Orleans. Although the celebration is typically recognized deep down in the south, there are plenty of establishments in the Big Apple that are offering Mardi Gras specials, feasts and festivities on Fat Tuesday. Check out a list of a few spots in NYC turning up for Fat Tuesday below:
Treadwell Park:
The Upper East Side beer hall is hosting its very own Mardi Gras ball for the first time with a menu loaded with NOLA favorites including their signature Fire Breathing Jambalaya, Boudin Balls and Muffaletta Sandwich. And because there's no such thing as a Mardi Gras party without some sugary sweet treats to soak up the six Louisiana-based brews Treadwell Park is offering on Fat Tuesday, there's also beignets on the one-time-only menu. The party at Treadwell Park kicks off at 6 p.m.
Location: 1125 First Ave
What's a Mardi Gras celebration without a parade? Brooklynites luckily won't have to miss out on all the bead throwing and festive floats because House of Yes is actually hosting a parade during their Brass, Sass & Ass party on Tuesday night. Along with the sexy circus performances, partygoers will get to boogie down while funky tunes by Idle Hands Brass Band play all night long. The dance floor will get rocking at 10 p.m.
Location: 2 Wyckoff Ave
Virgil's Real Barbecue:
The weather in NYC may not be as warm as NOLA, but after sucking down a few (or several) Hurricanes during Virgil's happy hour it sure will feel like it's 80 degrees. The happy hour drink specials will be flowing from 4 p.m. to 7 p.m., and don't worry, there's plenty of southern-inspired dishes on the menu to help soak up all those Cruzan Light and Bacardi dark rum cocktails.
Location: 152 W. 44th Street
Village Pourhouse:
With a name like Village Pourhouse, it's no surprise that the $6 Hurricanes and $3 Abita beers are on special for Mardi Gras during the entire month of February. During Fat Tuesday's celebration, patrons will also be able to enter a raffle and potentially take home a cooler filled with Abita beer compliments of the Louisiana-based brewery. Oh, and the bar will be handing out beads with every purchase from noon to 2 a.m.
Location: 64 Third Avenue
Anyone who has ever visited Louisiana knows that no other state does a crawfish boil quite as good as the Bayou. However, The Hall at MP will give the Creole State a run for its money when the Brooklyn bar hosts its own New Orleans Crawfish Boil in honor of Mardi Gras. Along with a $35 crawfish platter served with corn and potatoes, diners will also be able to drink up half-priced NOLA beers and craft cocktails while the Funk Band belts out groovy tunes all night long. Doors open at 6 p.m.
Location: 470 Driggs Avenue
© Copyright IBTimes 2023. All rights reserved.