Mardi Gras Facts 2021: Things To Know About How Christians Celebrate Fat Tuesday
Mardi Gras, or "Fat Tuesday," is here, and it's time to indulge in cultural celebrations and dig into the favorite foods and treats.
Fat Tuesday began as a Catholic tradition of revelry before the beginning of Lent, which is a 40-day-long fast when Christians give up some of the things they most enjoy.
Each year, this day is marked with parades and festivals in New Orleans. However, this year there will be no parades due to the Covid-19 pandemic, but people can celebrate the day with Mardi Gras house floats, special Mardi Gras cocktails in bars and restaurants and king cakes.
Below are some facts and things to know about Mardi Gras:
1. "Mardi Gras" is French for Fat Tuesday, which is also known as Shrove Tuesday.
2. The first Mardi Gras ever took place was in 1703.
3. New Orleans is the most popular place to celebrate it in the United States. People wear costumes or dress up.
4. Purple, green and gold are the Mardi Gras colors selected by Rex, the King of Carnival. Purple stands for justice, green for faith, and gold for power.
5. The date for Mardi Gras, or Fat Tuesday keeps changing. This year, it falls on Feb. 22. In 2022, it will fall on March 1.
6. People celebrate this day by drinking and binging on all the rich, fatty foods — meat, eggs, milk, lard and cheese.
7. On Mardi Gras day, the majority of non-essential businesses are shut down.
8. More than 1 million people arrive in New Orleans to celebrate Mardi Gras.
9. The only state in which Mardi Gras is a legal holiday is Louisiana.
10. Mardi Gras has spread from Rome to other European countries, including France, Germany, Spain and England.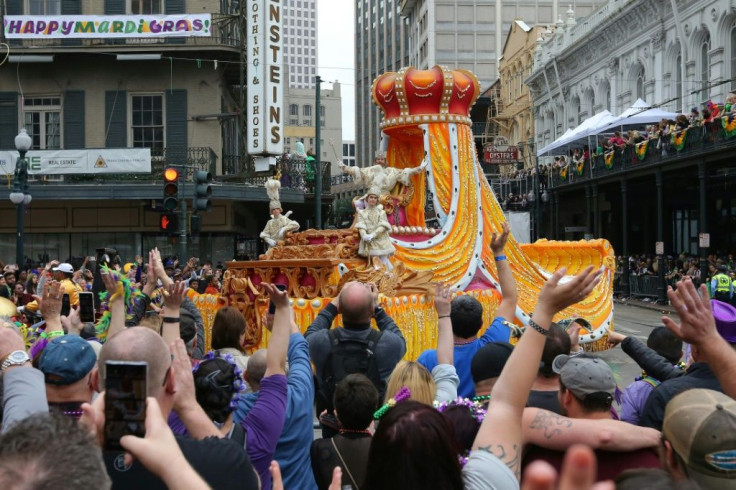 © Copyright IBTimes 2023. All rights reserved.