Mariah Carey Shows Off Butt And Cleavage, Wears Fishnets At The Gym In Sexy Instagram Photos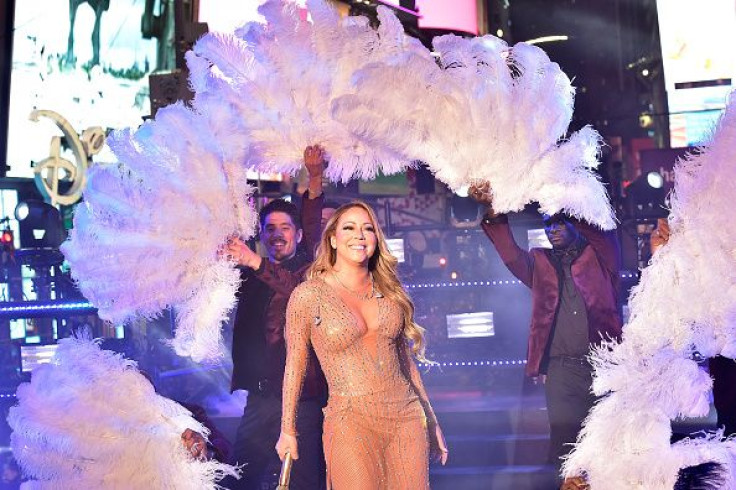 Mariah Carey is a diva through and through. The "Touch My Body" singer recently uploaded photos of herself at the gym working out while wearing a sexy black bodysuit, jacket, fishnet tights and heels.
On Thursday, Feb. 2, Carey shared a photo of herself using a stairmaster. In the snap, the 46-year-old singer is leaning on the machine while showing off her rear and toned legs. She doesn't seem to be having a hard time using the machine despite wearing white stiletto boots. "Climb every mountain @gunnarfitness," she captioned the suggestive photo.
Carey also posted a clip of herself lifting weights. In the video, the diva shows off her ample cleavage and some bling as she lifts dumbbells with each hand. A second video shows the singer running in heels at the gym.
The sneaker booties Carey is wearing are from Rihanna's Fenty Puma collection. The "Work" singer even took to Instagram to express her excitement after seeing Carey wearing one of her creations. She shared Carey's photo and wrote in the caption, "Yo I made it!!!"
Meanwhile, Carey recently shared a teaser of her new song, "I Don't," People reported. The track is reportedly inspired by her ex-fiancé, Australian billionaire James Packer, with whom she broke up with last year. In the latest episode of her show "Mariah's World," Carey sang a snippet of the breakup ballad.
"Ever since the tour wrapped, I took some time just to process my feelings and I started writing a song to express what I've been going through . A nd if you're not getting the love that you need from someone that you're supposed to be in a real relationship with, then why remain in that situation?" she said in the E! docu-series.
Despite their failed engagement, Carey has now found new love in choreographer Bryan Tanaka. According to reports, her budding romance with the 33-year-old dancer was the reason behind her split with Packer.
Carey is set to release the full version of "I Don't" on Friday, Feb. 3.
© Copyright IBTimes 2023. All rights reserved.