Is Marijuana Addictive And A Gateway Drug? Obama's Attorney General Explains Cause Of Opioid, Heroin Epidemic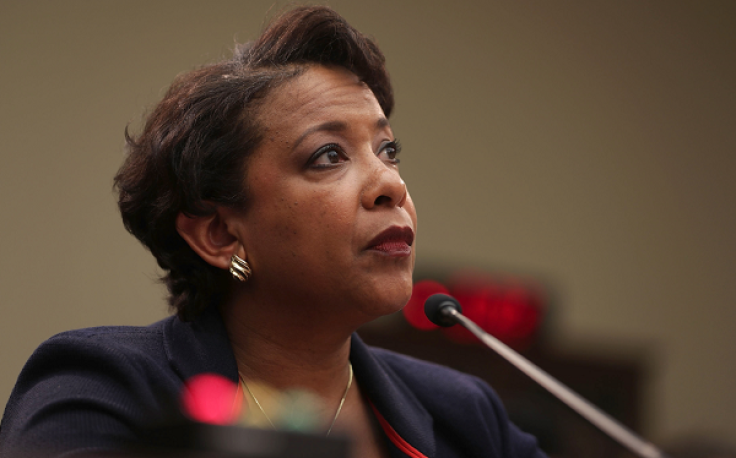 Marijuana's role in the nation's conversation about drug abuse has been sorely overstated, U.S. Attorney General Loretta Lynch suggested on Tuesday. Pot isn't the gateway drug it's been traditionally billed as, she told a group of Kentucky high school students while discussing the threat and risks of prescription drug and heroin abuse in observance of Prescription Opioid Heroin Epidemic Awareness Week, as designated by the Obama administration.
While research suggests marijuana use can lead people to experiment with other illicit drugs and activities, Lynch shot down the popular claim that recreational pot users are on a track to harder drugs. Instead, she said prescription drug abuse is a bigger factor leading to hard drugs like heroin.
"In so many cases, it isn't trafficking rings that introduce a person to opioids. It's the household medicine cabinet. That's the source," Lynch said.
"When we talk about heroin addiction, we usually, as we have mentioned, are talking about individuals that started out with a prescription drug problem, and then because they need more and more, they turn to heroin," Lynch said. "It isn't so much that marijuana is the step right before using prescription drugs or opioids – it is true that if you tend to experiment with a lot of things in life, you may be inclined to experiment with drugs, as well. But it's not like we're seeing that marijuana as a specific gateway."
Lynch did warn students of the health hazards that can stem from marijuana use that affects the brain and lungs in humans.
Source: HealthGrove | Graphiq
Kentucky, in particular, has been facing a heroin and opioid epidemic in recent years. The number of deaths from drug overdoses in the Bluegrass state has increased to more than 1,000 a year, according to a report by the Office of Drug Control Policy. Heroin was responsible for the deaths of 1,087 people in Kentucky in 2014, the most recent statistics available. The drug led to the state's introduction of Senate Bill 192, or The Heroin Bill, in 2015, which proposes stricter penalties for heroin dealers and traffickers in the state as well as more treatment options for addicts in need.
The Obama administration is seeking $1.1 billion in new funding to fight opioid abuse.
Below is Lynch's full address to Kentucky students.
<iframe width="560" height="315" src="https://www.youtube.com/embed/dkO1dx-y8MU" frameborder="0" allowfullscreen></iframe>
© Copyright IBTimes 2022. All rights reserved.
FOLLOW MORE IBT NEWS ON THE BELOW CHANNELS