Marijuana For Minors In Canada: PM Justin Trudeau Suggests Young Minimum Age For Legal Drug Use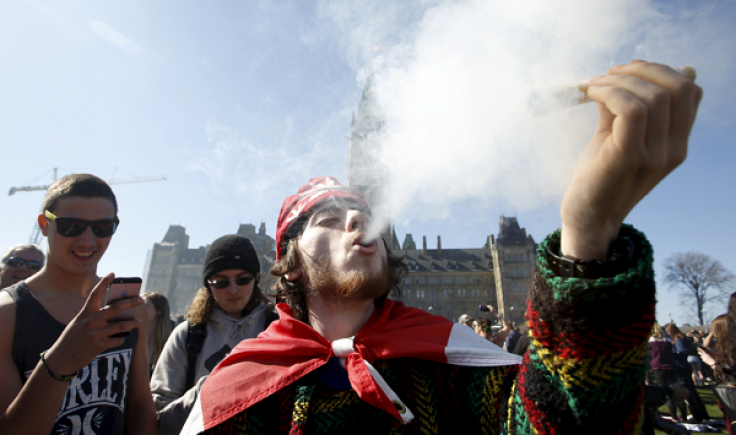 Canadians as young as 18 years old may be able to purchase recreational marijuana from various retail shops if the country passes new cannabis laws in 2017. During a press conference Thursday, Canada's Prime Minister Justin Trudeau recommended setting the legal marijuana consumption age limit at 18 or 19.
"I think the proposal for the age of 18, or 19 in some provinces, to align with the [legal drinking age] across the country, is a reasonable compromise," Trudeau said. "We know the largest misdeeds of marijuana use happens at a lower age than 18, 19 years of age, and I think this is a responsible approach that we have found in terms of balance that is both practical and useful."
Currently in 10 Canadian provinces, teens can legally purchase and consume alcoholic beverages at the age of 19. The legal drinking limit in Alberta, Manitoba and Quebec is 18.
The Task Force on Cannabis Legalization and Regulation, which is responsible for developing the country's marijuana program, agreed with Trudeau's minimum age limit recommendation and said setting minimum marijuana age limits similar to that of Canada's drinking laws could help crack down on the "illicit market" and could possibly lead to less arrests and criminal records of many young Canadians. However, the Canadian Medical Association is still pushing the Task Force to set the legal marijuana consumption limit to 21.
If the laws do pass in spring 2017, Canada would be the largest developed country to allow adults to legally carry up to 30 grams of marijuana for recreational purposes and grow up to four plants. Regulations in the Task Force's framework for legalization suggest setting higher taxes for cannabis with higher THC concentration.
Retailers would also not be allowed to sale marijuana in locations where alcohol and tobacco are sold. However, the measure would allow the operation of alcohol-free cannabis lounges.
© Copyright IBTimes 2023. All rights reserved.