Marijuana News: Thousands Of Plants Extracted From A Texas Field After A Major Bust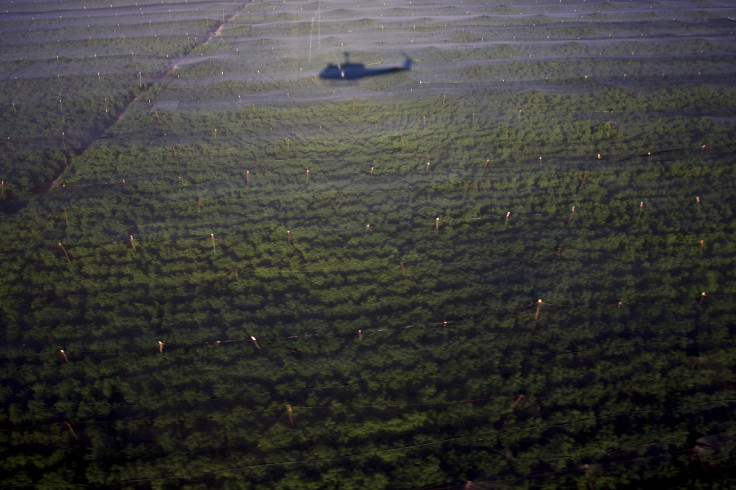 Officials began efforts to clear a massive field of marijuana in east Texas Tuesday morning after discovering thousands of plants, reported East Texas station KLTV.
Officials arrested one person, 31-year-old Mexican national Erick Cruz-Olemando, in connection with the marijuana field. Cruz-Olemando was being held in the local Smith County Jail on an immigration detainer and officials said additional state and federal charges were expected to be filed against him, according to the Dallas Morning News.
There were reportedly other suspects who escaped authorities. Smith County Sheriff Larry Smith told KLTV that the county's SWAT team entered a wooded area near the field and "heard a gasoline-driven pump running at a nearby creek." Smith said they soon noticed people in the area and set up a perimeter, attempted to contact them and saw "at least three Hispanic males" that were "camped in the area," according to KLTV. A K-9 team was able to locate Cruz-Olemando and take him into custody, while the two other suspects escaped. Police were alerted to the field by an anonymous tip, according to the Tyler Morning Telegraph.
The field had plants reportedly ranging from about three to nine feet tall. At first the Smith County Sheriff's Office estimated there were about 3,000 to 4,000 plants in the field, then upped that estimate to 5,000 plants. The operation was apparently pretty complex, with three separate grow-sites and an irrigation system the featured a dam. Some of the plants had already been harvested.
"This is the first field we've gotten this summer so far where they were in the process of harvesting some of the buds off of the plants they had been dried and we had some finished product," Sheriff Larry Smith said, according to KLTV.
The plants were found near the city of Tyler, which is located less than 100 miles from Dallas. This is the second major bust in Smith County in three weeks. While marijuana busts are common in the area, there's been a recent uptick.
"Our belief is it's because the border is tightening down and it's easier for them to send people over here and domestically grow the marijuana and harvest it than it is to get it across the border," Smith said, according to KLTV. "They're professionally done it's not just a fly by night organization, a couple of marijuana plants, it's a very well organized group that's doing it."
Officials started the process of removing the plants Tuesday morning. Initially, they estimated the field contained about 3,000 to 4,000 plants, then revised the number closer to 5,000. Agents at the scene say the plants were cut down and a helicopter is aiding the removal process.
© Copyright IBTimes 2023. All rights reserved.