'Mario Kart 8' Release Date May 30: Track List Revealed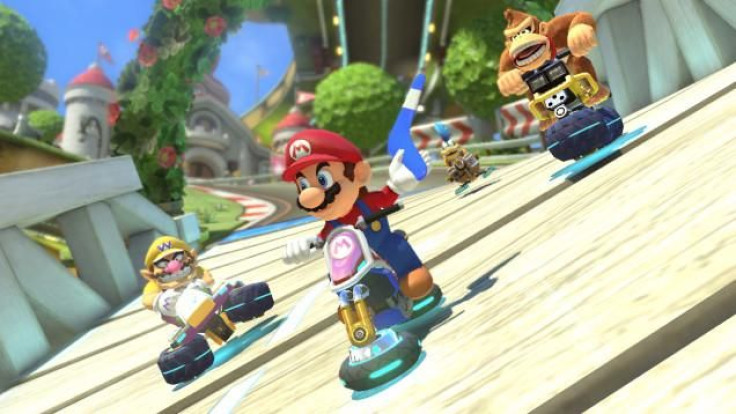 Nintendo has released a track list for "Mario Kart 8," which it will launch on May 30. The racer will feature 32 tracks: 16 new circuits and 16 circuits based on tracks from previous versions of the popular Nintendo franchise.
Users will have the ability to play time trials, match modes and grand prix races. The game will also have eight cups, each with its own four circuits.
Last week, more features of the game were announced, including in-game items and anti-gravity racing abilities.
"This is the eighth game in the series, and when we work on a Mario Kart title, we work on courses and we create them, and then we work on them again, and again, and again, and we revise until we come up with something that we think is going to be fun for everyone to play over and over again. So we have a lot of confidence in our ability to do so, but we understand what a tough challenge it is to create those courses," Konno explained during a roundtable discussion at the Game Developers Conference in San Francisco in late March.
The game's courses are listed below.
Mushroom Cup
Mario Kart Stadium
Water Park
Sweet Sweet Canyon
Thwomp Ruins
Flower Cup
Mario Circuit
Toad Harbour
Twisted Mansion
Shy Guy Falls
Star Cup
Sunshine Airport
Dolphin Shoals
Electrodome
Mount Wario
Special Cup
Cloudtop Cruise
Bone Dry Dunes
Bowser's Castle
Rainbow Road
Shell Cup
Moo Moo Meadows
Mario Circuit
Cheep Cheep Beach
Toad's Turnpike
Banana Cup
Dry Dry Desert
Donut Plains 3
Royal Raceway
DK Jungle
Leaf Cup
Wario Stadium
Sherbet Land
Melody Motorway
Yoshi Valley
Lightning Cup
Tick-Tock Clock
Piranha Plant Pipeway
Grumble Volcano
Rainbow Road
Battle Mode Courses
Moo Moo Meadows
Dry Dry Desert
Donut Plains 3
Toad's Turnpike
Mario Circuit
Toad Harbour
Sherbet Land
Yoshi Valley
© Copyright IBTimes 2023. All rights reserved.
FOLLOW MORE IBT NEWS ON THE BELOW CHANNELS