'Married At First Sight' Season 1 Premiere Recap: Left At The Altar? Major Cliffhanger For Episode 1 Of FYI Series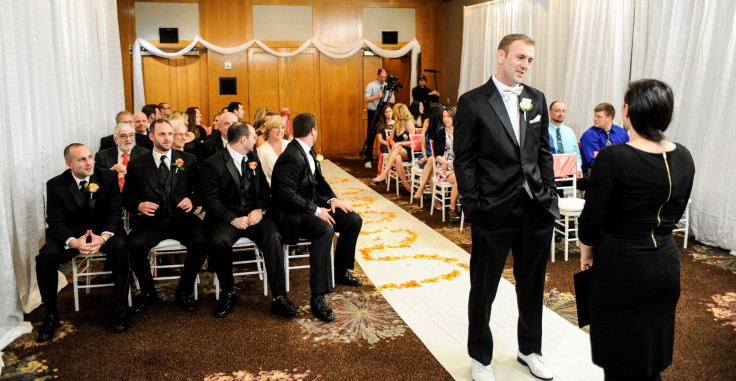 "Married at First Sight" premiered Tuesday on FYI, and audiences saw exactly what kind of people willingly sign up to marry a complete stranger. As it turns out, the participants in the show are pretty average.
Episode 1 introduces audiences to the six participants and the panel of four experts. After being scientifically matched, couples are quickly married and have to live together for four weeks. After four weeks, the couples decide if they want a divorce or if they are in love.
Before being matched, all participants need to complete tests of attraction, in-depth interviews and a long questionnaire. Participant Courtney Hendrix says she took six hours to fill out all the information. Looking for your scientific match is a lot harder than a BuzzFeed quiz.
"These are very sophisticated instruments. They're used by organizations like the CIA and FBI. They really give us some very powerful and sophisticated information," said Dr. Joseph Cilona, the show's psychologist. "This is likely the first time that these instruments have been used together to determine romantic compatibility."
Each participant meets with all four experts. First Dr. Pepper Schwartz, a sociologist, comes to their homes and learns about their lives. She notes everything from how they interact with family to how they organize their closets. Then Cilona interviews each person about where their weaknesses are in relationships and why their past relationships haven't worked out (many have trust issues and trouble being vulnerable). Greg Epstein, a spiritualist, talks about each person's faith, what role that plays in their lives and what they think a healthy marriage looks like.
Dr. Logan Levkoff, a sexologist, talks to them about sexuality. The sex discussion forces participants to wonder if they will consummate their marriage on their wedding night. That's what most couples do, but then most couples also meet before their wedding.
No one is sure how their wedding nights will go, but Monet Bell is sure of one thing. "I will not subscribe to a life of bad sex," she laughs.
After all four experts have finished investigating, they make their matches.
Jamie Otis and Doug Hehner are matched first. Both are outgoing and describe themselves as late bloomers. Each seems rather thoughtful. Jamie writes their first dance song with a couple of friends. Doug makes a scrapbook for Jamie that he calls a cheat sheet for his life.
Monet Bell and Vaughn Copeland are both looking for traditional gender roles in their relationship. Monet's outgoing personality also balances Vaughn's reserved tendencies. These two are presented as the most scientifically compatible.
Courtney Hendrix and Jason Carrion are both funny and lighthearted. They aren't quite the same, but the experts think they'll complement each other. Jason is a caretaker (his mother has stage four cancer) and Courtney needs to care for someone to grow and mature, according to Schwartz.
[Learn more about each participant here.]
Throughout the episode, each participant keeps talking about how this is absolutely crazy and risky, and just in case you somehow forgot, they remind viewers that they are marrying a complete stranger.
Doug says, "An experiment like this has never been done before, which is kind of a cool feeling but kind of a scary feeling because you do feel like you're the guinea pig."
He's wrong. The show is actually based on a Danish show with the same premise. But that doesn't mean this science is perfected. Schwartz says, "I believe in what I am doing, but I also understand that there are things you can't control. I can't offer a 100 percent guarantee that these couples stay married."
Their loved ones seem to understand this. Jason's wrestling partner is angry that he is making this sudden change. His fiancé Courtney isn't having an easy time either. She says her family is "confused" by the whole situation. Courtney's family doesn't even come to her wedding. Jason's mother also does not attend. She had chemotherapy two days before and doesn't feel well enough.
The episode ends before we see Monet or Courtney walk down the aisle. Viewers only see Jamie struggling to get through the vows. Doug was thrilled to see Jamie, but Jamie wasn't so impressed.
"Obviously I wasn't like 'what a knockout,' you know," Jamie said. "I'm about to get married right now to someone I don't know. I'm thinking I just made the worst decision of my life. I am so scared."
Viewers are left wondering if all the couples will even make it through their "I do's."
Will Jamie marry Doug on next week's "Married at First Sight"? Are you ready to watch the drama between the married couples next week? Comment with your thoughts!
FOR FREE to continue reading
✔️ Unlock the full content of International Business Times UK for free
offer available for a limited time only
✔️ Easily manage your Newsletters subscriptions and save your favourite articles
✔️ No payment method required
Already have an account?
Log in
© Copyright IBTimes 2023. All rights reserved.