Marshawn Lynch Said He Stole Car Before Being Arrested For DUI: Cops
Former NFL star Marshawn Lynch, who was dragged out of a damaged sports car and arrested for driving under influence, reportedly told the cops that the car was stolen.
The 36-year-old who appeared to be nodding in and out of sleep during questioning reeked of alcohol, police said, as reported by USA Today.
Las Vegas Metro Police found Lynch asleep in the driver's seat in a parked Shelby GT500 Coupe sports car Tuesday morning. The vehicle was in an "undrivable condition" and had a missing front wheel. The wheels on the rear driver's side and the front passenger were also badly damaged.
During the questioning, Lynch said he was not drinking and was not on drugs but had stolen the vehicle, according to the bodycam videos obtained by TMZ.
The officers then asked him to exit the vehicle, but Lynch refused to cooperate. "Right now, if you don't get out of the vehicle, you're going to be charged with obstructing an investigation. That is a criminal offense and you will go to jail," an officer told Lynch.
The officers then forcibly removed him out of the vehicle and later transported him to the Las Vegas City Jail. Lynch continued to be uncooperative and had to be restrained on a chair to draw blood from him, police said.
In addition to the charges of driving under the influence, Lynch faces charges for failure or refusal to surrender proof of insurance, driving an unregistered vehicle, and failure to drive in a travel lane.
Meanwhile, Lynch's attorney claimed that there is evidence that Lynch was not driving under influence. "Marshawn was not pulled over for a DUI. Rather the vehicle was safely parked and not in operation. We are confident that when all evidence is presented, this will not be a DUI under Nevada law. Marshawn appreciates and is thankful for everyone's concern and support," Lynch's attorney said in a statement Thursday.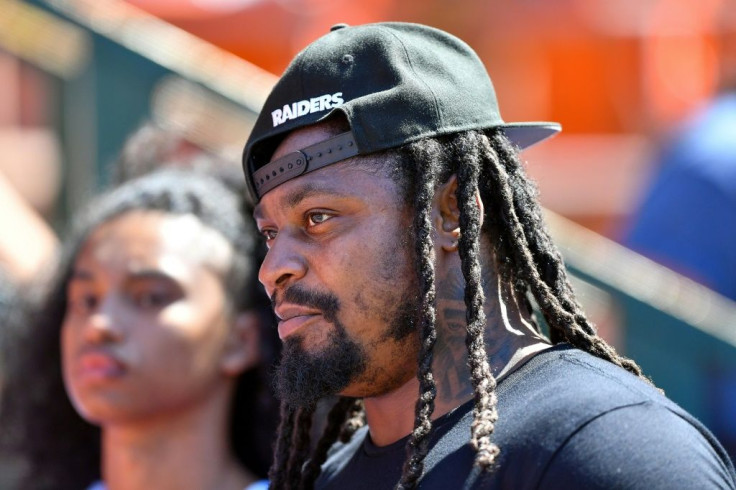 Lynch's arrest came a day after the Seahawks announced him as a special correspondent to "produce creative content for a variety of projects" for the 2022-23 season.
According to reports, Lynch was previously arrested for DUI in Oakland in July 2012. Two years later, he pleaded guilty to a charge of reckless driving and settled the case.
© Copyright IBTimes 2023. All rights reserved.