Maryland Woman Texting While Driving Crashes Into Wakefield Lake In Waldorf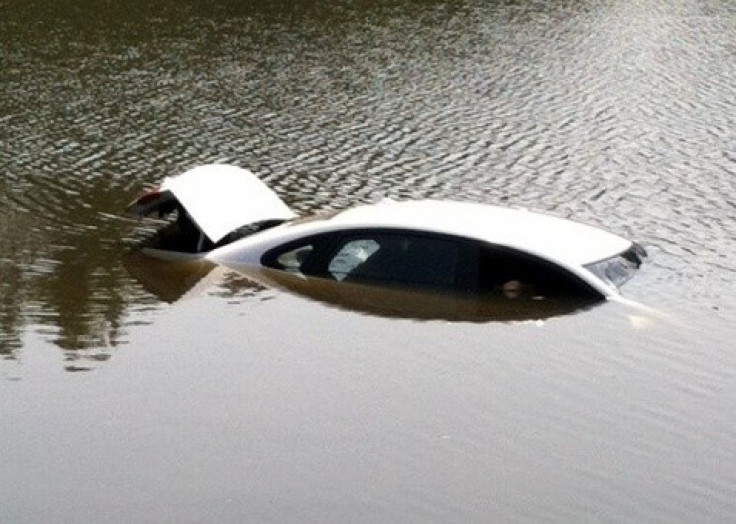 A Maryland woman who drove her car into a lake on Tuesday afternoon while texting and driving is facing charges from the Charles County Sheriff's Office. According to a press release from the sheriff, the accident took place at 12:23 p.m. EDT.
Police say a 25-year-old woman driving a Hyundai veered off the St. Charles Parkway in Waldorf, hit a tree, and ricocheted into Wakefield Lake. Wakefield Lake is about 20 yards from parkway, where the woman was driving north at the time, the Washington Post reported.
The driver, whose identity has not yet been made public, escaped from the vehicle, which was submerged in about five feet of water, through the driver's side window. The sheriff's office said that after extricating herself from the wreck she "reportedly told officers she had been texting and driving when she lost control of her vehicle."
The accident left her apparently unscathed, with officers reporting that she did not show any visible signs of injury. She was nonetheless taken to Charles Regional Medical Center for observation.
According to WTOP, the incident is still under investigation and the Charles County Sheriff's Office Traffic Operations Unit has asked that any witnesses with information call (301) 932-2222.
In the past few years, texting and driving has come under increasing scrutiny alongside an exponential rise in cell phone use across the country. According to the findings of a University of Washington study, released on Monday, that examined behaviors in 7,800 drivers in six countries, roughly 45 percent of drivers who appeared to be distracted while driving were found to be texting. The study also alleged that as much as 28 percent of motor vehicle crash risk is related to cell phone or text message use in cars.
"These findings suggest that distracted driving is more common than we thought and that texting has become a major cause of distraction," Dr. Beth Ebel, principal investigator with UW Medicine's Harborview Injury Prevention and Research Center, said. "Most people support laws restricting texting and cell phone use in vehicles, yet some choose to engage in behaviors that put everyone on the road at risk."
The issue even prompted renowned German filmmaker Werner Herzog to tackle a PSA about the dangers of texting while driving, titled "From One Second To The Next." "What's more important than legislation is awareness," Herzog said of his motivation to make the documentary. "You can't legislate stupidity."
"One single accident less, and I have done the right thing," he said.
© Copyright IBTimes 2023. All rights reserved.