Masks Until 2022? Dr. Fauci Explains COVID-19 Future Concerns
Dr. Anthony Fauci, the nation's leading infectious disease expert, has announced that while there's no way to tell when the COVID-19 virus spread will slow, he believes that Americans will be wearing masks until at least 2022.
There have been nearly 500,000 COVID-19 deaths in America since the virus entered the country one year ago, and almost 29 million Americans have tested positive for the coronavirus.
Dr. Fauci was featured on CNN's "State of the Union" show and interviewed by Dana Bash to explain the stateof the virus and what he thinks the future holds.
The 80-year-old first explained that it's very "possible" Americans will continue wearing masks for the next year or so, but life still might not be the same as before the pandemic hit.
"I think we're going to have a significant degree of normality, beyond the terrible burden all of us have been through in the last year, that as we get into the fall and winter... we will be approaching a degree of normality," said Fauci.
"It really is a terrible situation that we've been through and that we're still going through, and that's the reason why we keep insisting to continue with the public health measures because we don't want this to get much worse than it already is," he added.
Americans have had mixed reactions to this news, with some contending they'll always wear a mask while others saying once everyone has the opportunity to be vaccinated, they're putting the masks to rest.
Over 43.6 million Americans have received at least one dose of the COVID-19 vaccine and 18.8 million have received both doses, the Centers for Disease Control reports.
Dr. Fauci is hoping that everyone in the U.S. will be able to start receiving the vaccine when April rolls around, depending on how fast Moderna, Pfizer and the upcoming Johnson & Johnson vaccine are produced and distributed.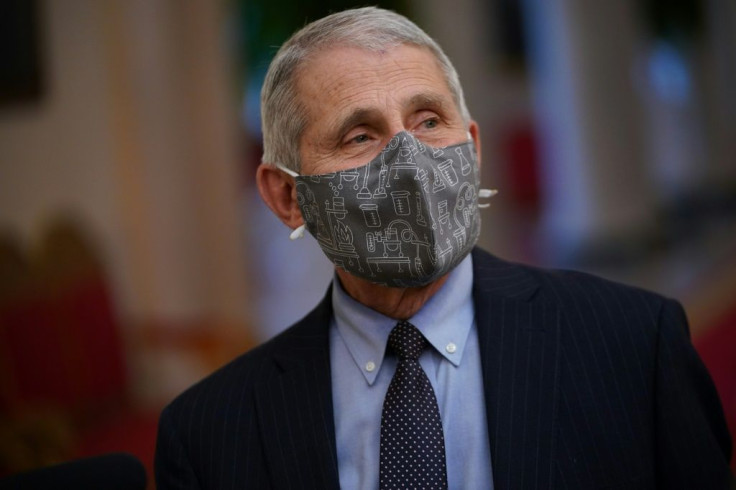 © Copyright IBTimes 2023. All rights reserved.