Dr. Fauci On Getting 'Back To Normal': The Astounding Vaccination Number Needed
Dr. Anthony Fauci, the nation's leading infectious disease expert, is hopeful about the U.S. recovering from the cornavirus and returning to a sense of normalcy soon, but he warns that there is an "absolute but" to when and how it can occur.
Fauci, who also serves under the Biden Administration's coronavirus taskforce, told CNN in an interview Tuesday night that 70% to 85% of the U.S. population needs to be fully vaccinated –- receiving both doses of the COVID vaccine -- in order for the country to get back to a pre-pandemic normal.
But according to the Centers for Disease Control and Prevention, only 2% of Americans have received both doses of the COVID vaccine. To date, the agency said it has administered over 32.7 million doses of the vaccine to over 26.4 million people, but only some 6 million have received both doses.
Fauci, however, told CNN, he is optimistic that the U.S. can reach the goal of 70% to 85% vaccinations by the end of summer to the beginning of fall.
"At that point, the entire community could start getting back to normal, and they could be doing things that each and every person wants to do, maybe not 100% back to normal, but at least approaching normal," he told the news outlet.
But Fauci maintained, "there is an absolute 'but' in that. And the 'but' is that we have to address the variants."
A number of new strains of the virus have cropped up across the states, causing alarm at their ability to spread faster and be more contagious, with one of the most concerning being the South African variant that was recently identified in South Carolina.
While vaccine makers believe their COVID vaccines are effective at fighting the new mutations of the virus, they may not provide full effectiveness against the new strains. Moderna announced last week that it was developing a booster shot to combat the South African strain despite saying its COVID vaccine had efficacy against the mutation.
Compounding the risk of the spreading variants is the small percentage of people who are currently vaccinated, which could cause another surge in infections and deaths. To prevent the spread of the mutations, Fauci said, Americans need to get vaccinated and follow health guidelines.
"The only way a virus mutates (is) if it can replicate. So if you vaccinate people and double down on public health measures and keep the level of viral dynamics low we will not have an easy evolution into mutations," he said. "That's something that people really need to understand."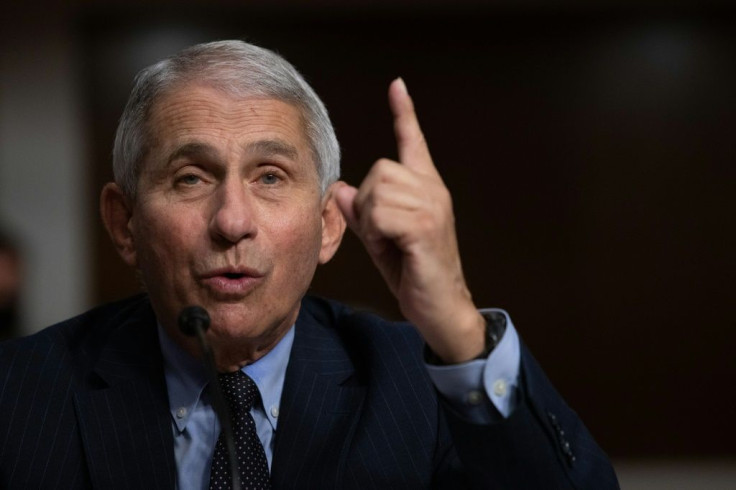 © Copyright IBTimes 2023. All rights reserved.