'MasterChef Junior' Season 4, Episode 5: Happy Birthday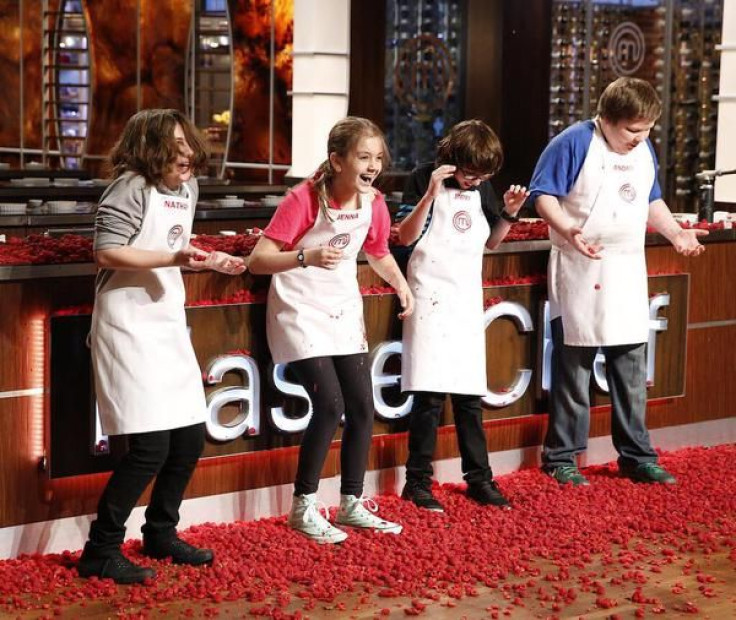 In last Friday's episode of "MasterChef Junior," the top 16 contestants face their first team challenge. They serve up some party snacks for some very special guests. The winning team escapes the pressure test, where some stellar baking skills are needed to avoid elimination.
For the first team challenge of the season, the contestants ride a tractor driven by judge Christina Tosi. They all head out on a field trip to a ranch, which is set up with a ferris wheel, slides and even a large inflatable bouncy house.
The contestants are delighted, when they learn that they will be serving meals to a group of kids aged 8-13, just like them. Apart from the invited guests, one table of kids is extra special. Gordon Ramsay's four kids and Graham Elliot's three kids will also partake in the party food. All the kids will then cast their vote on which team's food is the best.
The contestants are divided into two groups of eight, and the teams will have to prepare their own versions of staple birthday party food. The menu must include fish tacos, a turkey burger and chicken wings.
The Blue Team is headed by Addison, and because she served the best dish in last week's episode, she got first pick in choosing her team members. Addison chose Kaya, Mia, Kaitlyn, Corey, Zac, Kamilly and Tae-Ho.
Meanwhile, Nate leads the Blue Team. He chooses Derek, Sam, JJ, Amaya, Jesse, Avery and Ian. The team captains herd their team into their stations and Addison is immediately in control. She proposes a menu and delegates her team members to specific tasks. Nate isn't as assertive and he struggles to come up with a solid menu. He lets his team throw around ideas, and they all start arguing.
The Blue Team decides to serve a turkey burger with Swiss and cheddar cheese on a sesame seed bun. They also choose to serve fish tacos with mango salsa and guacamole. Their chicken wings are served with a lemon sriracha aioli. Things go smoothly for the Blue Team until judge Gordon tastes the fish. He thinks that the fish is too spicy for children, and the team is forced to recalibrate the seasoning on their fish.
The Red Team finally comes up with a menu, and they decide to serve their fish tacos with a mango pineapple salsa and coleslaw. Their wings are glazed with an Asian hoisin sauce. For the turkey burger, they choose a wheat bun and cheddar cheese.
The Blue Team runs into a speed bump when some of their fish came out undercooked. Addison immediately catches the error and asks her team to adjust. The Red Team is unable to recover from the initial confusion, and they run into more trouble, when many of their wings come out burnt.
The Blue Team comes out on top and Addison, along with her team members is relieved to have escaped the dreaded pressure test. Nate will have to face the elimination challenge with his teammates Derek, Sam, JJ, Amaya, Jesse, Avery and Ian.
Back in the MasterChef Kitchen, Christina rolls out a giant croquembouche, a tower made out of cream puffs. The kids are amazed, but they know that they have a daunting task ahead of them. Of course, they need to create their own, much smaller version of the pastry tower.
After 90 minutes, the eight contestants bring forward their creations. Sam is the first to be judged, and Christina Tosi is amazed. She tells him that he did a great job, and immediately offers him a job at the Milk Bar. He laughs at the offer and says that he's not sure about wanting a career as a pastry chef. Christina is stunned, amused and slightly offended.
The other standout creations were from Jesse, JJ and Avery. They all managed to make their own delicious version of the classic French croquembouche, give or take a few minor flaws.
At the bottom of the pack lie Ian and Amaya, Ian's profiteroles are so badly shapen, that Gordon is able to pick out animal shapes from them. Luckily for him, he filled the rolls well and they are cooked properly. Amaya's croquembouche is also very badly constructed. However, she also finds herself safe, thanks to the taste of her dessert.
Derek is unfortunately going home, after he leaves his profiteroles quite undercooked. Nate suffers the same fate and leaves the competition, after entering this week at the top of the pack. He is unable to bake enough profiteroles to complete a tower, and the ones that he made are undercooked.
Derek and Nate head home, leaving only 14 contestants with a chance to become the next "MasterChef Junior." The show airs every Friday at 8:00 p.m. ET on FOX.
FOR FREE to continue reading
✔️ Unlock the full content of International Business Times UK for free
offer available for a limited time only
✔️ Easily manage your Newsletters subscriptions and save your favourite articles
✔️ No payment method required
Already have an account?
Log in
© Copyright IBTimes 2023. All rights reserved.