'MasterChef US' Season 6, Semi-Final Results: Who Makes It Into The Finale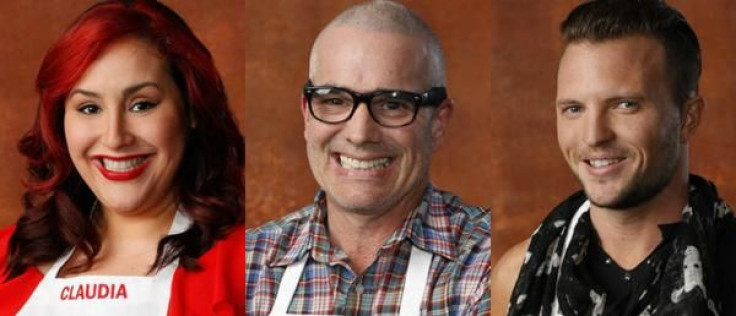 This week, the remaining three contestants battle it out in the "MasterChef" semi-finals. Stephen Lee, Claudia Sandoval and Derrick Peltz fight for a guaranteed spot in the final showdown. First, they serve their chosen entrees to VIP guests in the MasterChef Restaurant. Later, two cooks face off in a pressure test that sends one home and the other into the finale.
For a straight spot into the final, all three contestants need to cook their chosen entree for a group of 30 guests. Each of the three judges invited 10 members of their personal, trusted culinary teams to taste the contestants' food.
Team Gordon Ramsey, Team Graham Elliot and Team Christina Tosi, sit down for an amazing service in the MasterChef Restaurant. With such a big task ahead of them, the contestants are given a little assistance.
Three former contestants are brought back to become the semi-finalists' sous chefs. Stephen gets a hand from Tommy, Claudia gets Katrina, and Derrick gets help from Hetal.
With only 75 minutes to create 30 stunning dishes, the contestants and their assistants get to work. Stephen makes pan-seared scallops flavored with nutmeg and paprika. He finishes it with a walnut sauce and edible flowers. Claudia decides to serve grilled octopus with oregano potatoes and a fire-roasted poblano pepper and frisee salad. Finally, Derrick chooses a miso-marinated black cod, served with a daikon puree, mushroom, bok choy and bonito flakes.
In the end, Derrick gets 15 out of the 30 votes and heads straight into the final round with a landslide victory. This leaves Stephen and Claudia in the pressure test, to battle it out for a chance to compete against him.
They need to prepare a three-course dinner with each element chosen by the judges. The appetizer is a gruyere cheese souffle chosen by Christina. Graham asks for a steak and frites entree, while Gordon asks for a panna cotta filled with a raspberry coulis for dessert.
Both contestants encounter a little bit of trouble along the way. Claudia accidentally threw away her reserve panna cotta and was forced to make smaller portions. Stephen, on the other hand, puts his souffle in the oven a few minutes too early.
In the end, Claudia edges ahead and takes the spot in the final. Stephen ends his "MasterChef" journey and goes home. Claudia and Derrick become the last contestants with a chance to become America's next "MasterChef."
Find out who takes the trophy in the final showdown recap.
© Copyright IBTimes 2023. All rights reserved.