Mayweather Next Fight: Amir Khan To Get Shot At Floyd Or Manny Pacquiao In 2015?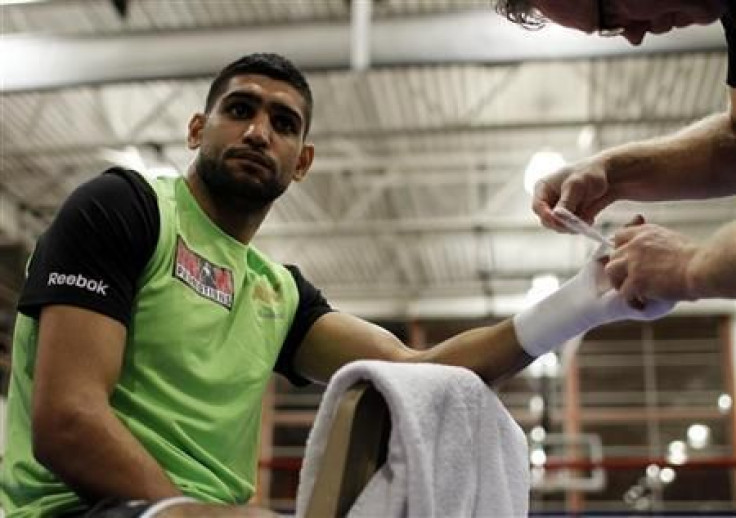 Floyd Mayweather and Manny Pacquiao have both scheduled fights for the latter part of 2014, as the undefeated boxer will take on Marcos Maidana on Sept. 13 and PacMan will face Chris Algieri on Nov. 22. While both fighters have decided against meeting Amir Khan in the ring this year, the Brit is looking to get shot at either one in the near future.
For months it had appeared that a Mayweather vs. Khan fight was bound to eventually happen. The two were set to fight in May until Mayweather decided to go with Marcos Maidana instead. The fight might have happened this September, but Khan's observance of Ramadan won't allow him to be ready until later in the year. Mayweather has indicated that he wants to fight at London's Wembley Stadium before his career his done, and a 2015 bout with Khan seems to make the most sense.
Khan is confident that he could challenge Mayweather's perfect record. Even though Mayweather might not be overly eager to take on the 27-year-old, Khan is certain that a potential bout against Mayweather would be a memorable fight.
"If the Mayweather fight happens, it happens. If it doesn't, it doesn't. It's one of those fights I wanted and everyone else wanted. I really believe the speed could have given him a lot of problems," Khan told The Telegraph.
Khan was very upset in February when Mayweather decided to fight Maidana, taking to Twitter and calling out Mayweather and his team. Since then, however, the boxer has put less emphasis on fighting Mayweather, setting his sights on other big names, as well. If Khan can't get Mayweather to agree to a bout, he'll look to meet Pacquiao on pay-per-view.
Pacquiao and Khan have a history of their own, outside the ring. Khan was previously trained by Freddie Roach, who currently trains Pacquiao. Khan and Pacquiao used to be sparring partners, and now there's a chance they could fight each other in a big time bout.
"Manny Pacquiao is still the same fighter," told The Telegraph. "I still have a lot of respect for him, he's a great fighter, but these are the fights I want."
While he's keeping his eyes on the two biggest names in the sport, Khan won't be able to fight either one this year. As he looks for his next opponent, Khan is considering the likes of Robert Guerrero and Devon Alexander. Khan was set to fight Alexander in December of last year, but pulled out of the fight because he thought he would be facing Mayweather in five months. Now, the two might finally meet in the last month of 2014.
Khan last fought on the undercard of Mayweather vs. Maidana. He had a decisive victory over Luis Collazo, beating him in a unanimous decision. It marked Khan's third straight win, following defeats over Julio Diaz and Carlos Molina.
© Copyright IBTimes 2023. All rights reserved.