McDonald's Thanksgiving Parade 2015: Chicago Route Map, Start Time, Where To Watch Live Stream & More
For some, Thanksgiving is all about pilgrims, parades and football, but for others, it's all about the parades. While the flagship may be Macy's Thanksgiving Day Parade in New York, Chicago holds its very own show sponsored by the quintessential American fast-food chain, McDonald's.
This time around, the McDonald's Thanksgiving Parade will march along State Street between West Congress Parkway and West Randolph Street. Those who show up early and get a good enough spot will be able to see a bevy of floats and live performances as the joyful walk proceeds 8-11 a.m. CST (9 a.m.-noon EST) Thursday, aka Thanksgiving Day.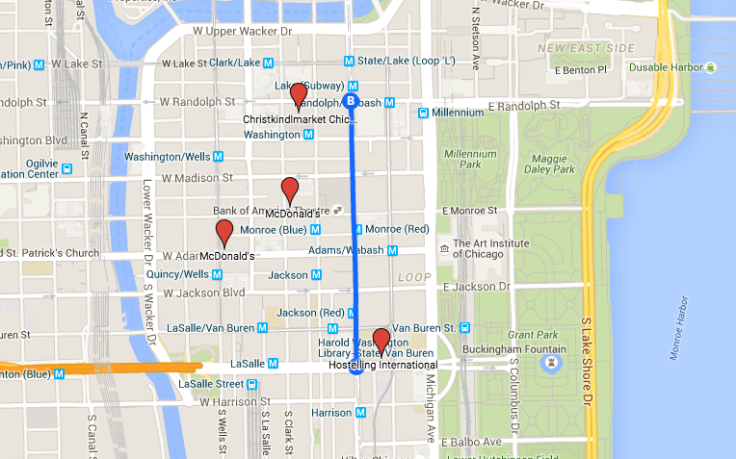 The event's grand marshal will be actor David Arquette, joined by Honorary Grand Marshal Ronald McDonald. According to the parade's official website, it will feature appearances by Miss Chicago, chef Graham Elliot and actor-singer James Maslow, as well as the Harlem Globetrotters. Closing out the festivities will be Santa Claus, direct from the North Pole.
While the young ones will likely be thrilled with the performances, the inflatables may be the most eye-catching aspect of this parade. Audiences can anticipate looking up in the sky and seeing versions of Arthur from the television series "Arthur" and Plex from the television show "Yo Gabba Gabba," as well as Cheer Care Bear, Hello Kitty, Tweety Bird and Teddy the Turkey. A full list of what viewers can expect can be found on the parade's website.
If any of the above spectacles sound appealing to you, but you won't be near the Windy City's parade route Thanksgiving Day, there's no need to be bummed out. Locals can watch the parade's live broadcast on WGN Channel 9. Those outside the Chicago area can still see the parade through WGN America on their cable systems or by streaming it via WGNTV.com.
For more information about the parade and what time folks should arrive to get a good spot, you can check out the event's FAQ page for the finer details of planning your trip. Meanwhile, check out the below feed of the McDonald's Thanksgiving Parade last year:
© Copyright IBTimes 2023. All rights reserved.