Meet Hatsune Miku, The Digital Japanese Pop Idol That Will Open For Lady Gaga [VIDEO]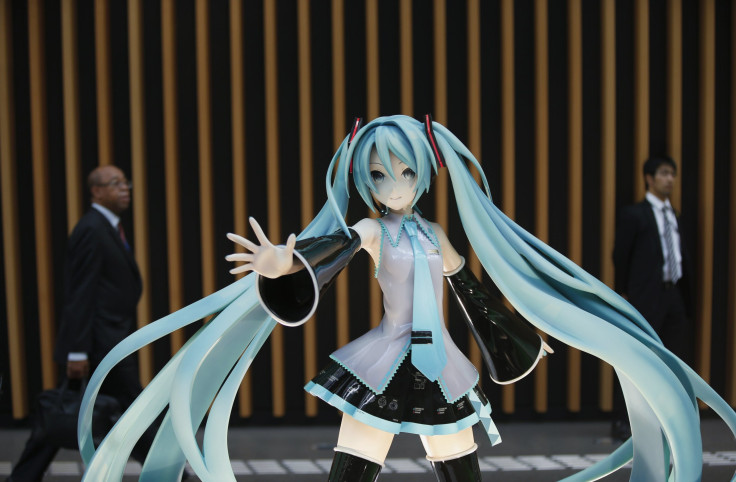 The Tupac hologram at last years Coachella festival blew our collective minds, but the Japanese have taken the idea of the digital performer to the next level, and Lady Gaga has taken notice. She'll have Hatsune Miku, a massively popular Japanese "digital" pop star, open for the first leg of her ARTPOP Ball tour this year.
What is a digital pop star? They're completely artificial. Miku is a personification of a highly sophisticated voice synthesizer program. She's a bubbly, Manga-styled 16-year-old with long blue hair who is projected as a hologram in live shows:
Her name is a portmanteau of the Japanese words for 'first,' 'sound,' and 'future," appropriate words to describe the first pop star made entirely out of ones and zeros.
She was created by Crypton Future Media using Yamaha's breakthrough Vocaloid series of voice-synthesizer engines. Crypton recorded the Japanese voice actress Saki Fujita singing various tones and pitches and strung them together into a program that allows a user to program Miku to sing whatever he or she chooses. Her creators figured she would sell better if modeled into a character with some personality.
She was originally marketed to professional producers looking to add vocals to their tracks, but later Crypton figured she'd sell well on the consumer market, and they were right. You can actually buy Miku's voice bank from Crypton and use Miku in your own music.
She's not the only one either. It may seem wierd, but digital characters like Miku could have a big role to play in J-pop in the 21st century. That doesn't make it any less strange to a lot of people, though. Watch some old people react with mixed results to Miku and another pair of Vocaloid artists, Kagamine Rin and Len:
You can see all of Lady Gaga's Artpop Ball tour dates here. South Korean K-pop group Crayon Pop will also open for Gaga on the second half of her North American tour.
© Copyright IBTimes 2023. All rights reserved.