Meet Rebecca Perez, The Founder Of GOSS Magazine, Whose Platform Empowers Women
This article uses affiliate links, which means if you purchase products through these links, we may earn a commission. Click here to see our
T&C
. For licensing please click
here
.
Rebecca Perez, the founder and editor-in-chief of GOSS Magazine, is here to set the record straight – #GOSSMAG™ is a space where sisterhood comes first. Built for women by women, the platform aims to unite, inspire and empower women leaders, and innovators of all industries worldwide. So, ladies, it's time to break through barriers and reach for the stars – regardless of what the world has deemed as "limitations."
Powerful forms of activist efforts throughout history have come from community and connection. A time when deep inside half of the population, something switched and bubbled. It was a shared feeling, an experience, a fire that burned within any woman.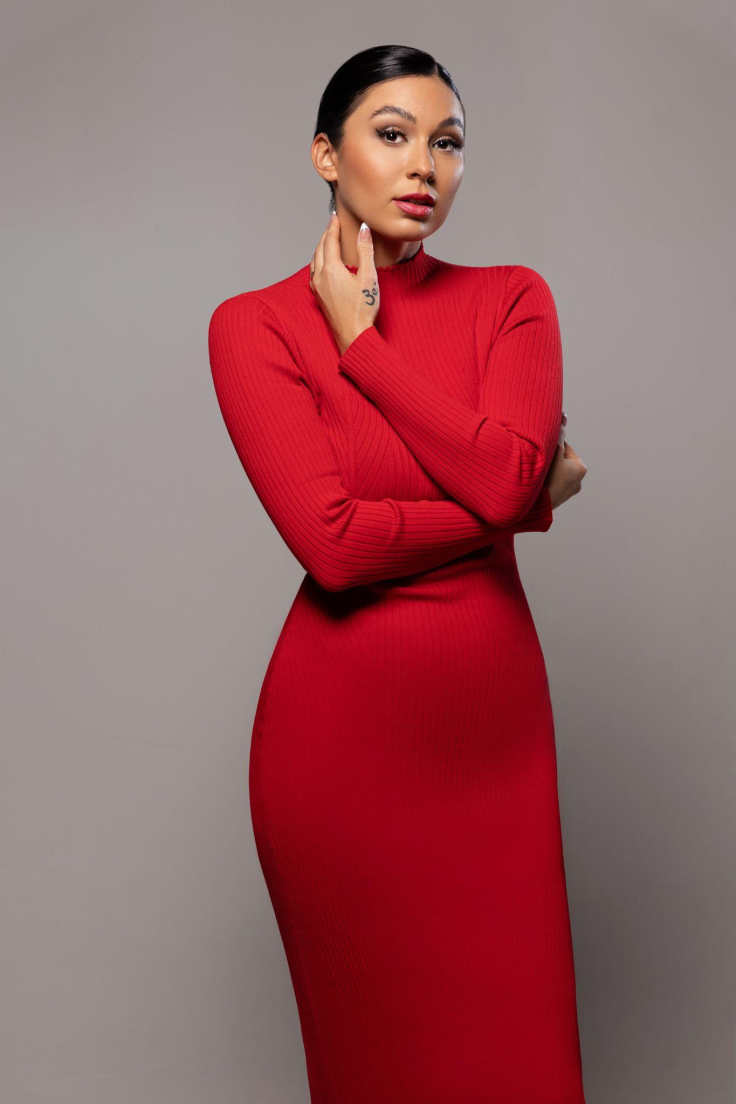 It was a strong and bold collective with a shared purpose. A haven that embraced any woman with the power to change – it was a sisterhood. Stronger back-to-back, mind-to-heart, while holding space, women helping women soon became a movement that empowered and enlightened the world.
In modern days, sisterhood is experienced every day. You see, when women come together, change happens. Women have always been masters of adaptation – because we've had to be. We don't always have equal access to formal authority, so we exercise power through the communities we create.
We lift each other up to take our place in this world and stab our stake in the ground so we can shout up at the stars above.
"Despite modest gains in representation over the last eight years, women – especially women of color– are still dramatically underrepresented in corporate America." However, there are companies spearheaded by women for women that have noted the unique challenges women face in the workforce and beyond.
And now they're making their organizations a better environment for sisterhoods to thrive. For Rebecca Perez, the Editor-in-Chief and founder of GOSS Magazine, it all started at home – with her actual sister. You see, at 19 years old, a profound moment of connection occurred between Perez and her younger sister, who was just 14 at the time.
"Growing up without parental figures to guide me, I had to learn how to adapt to my surroundings and pave the way," says Perez. "Having to take on the responsibility as a 'mother' figure to my sister really opened my eyes to how important solid mentor figures for young girls are."
It was through these moments of struggle that shaped Perez as a woman and, in time, made her want to release this burning desire to serve others. It was time to pass down the torch to help other women pave their way and hone in on their power.
"From this experience, I envisioned a platform where women could unite and thrive. I never want to see any girl go through that struggle," says Perez. "I want every woman to feel safe, recognized, independent, and valued – especially regarding financial freedom."
After tapping into her Goddess energy and reclaiming her feminine power, Perez followed her intuition to form a force for change, healing, and new possibilities. And so GOSS, aka a uniting acronym of 'Girl Boss,' was born.
With the launch of her new online magazine, Perez and her team made it their mission to help women connect through a global community of strong women who will help one another succeed and mentor girls ascending the ladder into adulthood.
"Everyone's going to experience some type of pain during their lifetime, but you can take that pain and turn it into something beautiful," says Perez. "I turned my power into a business and fueled a fire to build an empire strong enough for communities, mentorship, and sisterhood to thrive."
Since then, the #BeGOSSY movement has been turning heads in the digital universe. She started her journey of empowering women just five years ago and, since then, hasn't looked back. Today, GOSS has transformed thousands of lives and continues to empower and inspire daily.
"Everywhere I look, women are breaking glass ceilings. In politics, medicine, aviation, NFTs, real estate development, and more. We, as a collective, are changing the game," says Perez, "and now it's your turn to create the best version of yourself."
With feature powerhouses from the medical, aviation, arts, music, coaching, legal, and business mentorship fields, the platform for female entrepreneurs is geared toward helping women start and develop their businesses, feel empowered, and, most importantly, connect in unison.
"From our monthly print issues, distributed all over North America, to our digital E-Magazine, distributed worldwide, we aim to educate, connect, and bring together women so they can shine bright and find their passions," shares Perez.
GOSS Magazine has since collaborated with top minds and hosted the most extensive, luxurious events for the working Queens. From events, and courses to exclusive memberships and more, find your place in the universe by joining a sisterhood stronger than ever.
Thanks to Rebecca Perez's desire to dig deep and dream big, women worldwide can now utilize a platform packed full of opportunities born with infinite possibilities. For more information on joining the GOSS club, visit their website here.
FOLLOW MORE IBT NEWS ON THE BELOW CHANNELS