Megan Fox Plastic Surgery: Bloggers Speculate Cheek Fillers after 'Friends with Kids' Premiere [PHOTOS]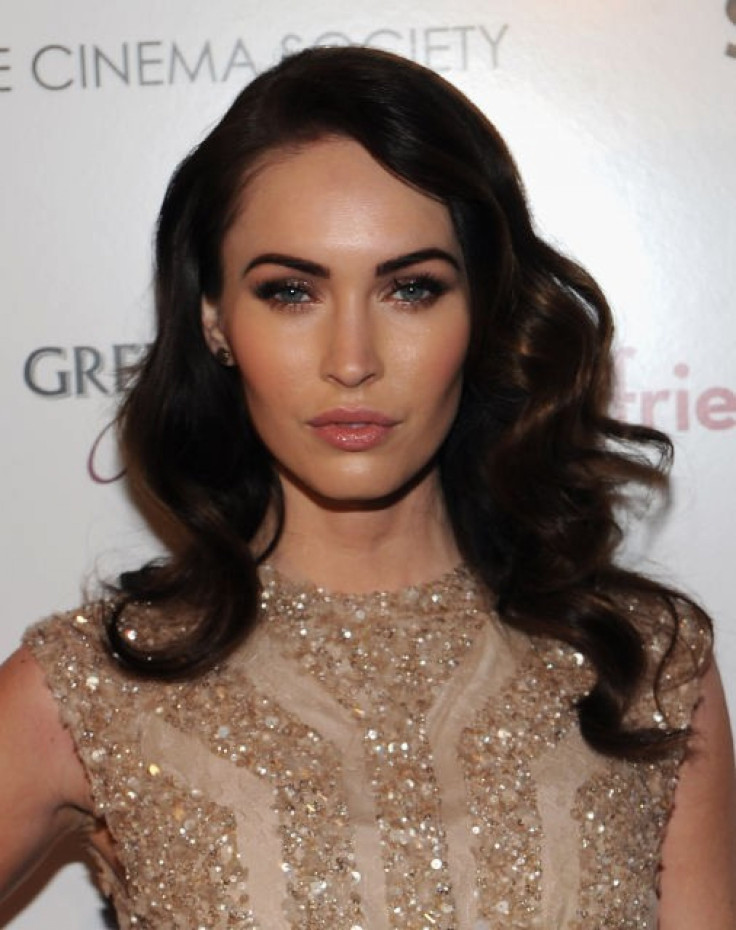 Megan Fox is back in the limelight for the premiere of her film Friends with Kids in New York City. However, bloggers are more focused on whether or not the actress has undergone more plastic surgery (possibly cheek fillers?) than her acting skills.
The Cinema Society and People Style Watch with Grey Goose hosted the screening of the new flick on Monday night at the SVA Theater. Fox had tongues wagging and flashbulbs popping as she posed and blew kisses on the red carpet. Fox wore a glittering Elie Saab Haute Couture dress with YSL pumps, Neil Lane jewelry and a Ferragamo clutch.
However, come Tuesday morning, the limelight shone on Megan Fox even brighter as plastic surgery rumors crept into the news.
Celebitchy.com posted an article with the headline Megan Fox at the 'Friends with Kids' premiere: Did she get cheek implants? The article went on to point out close-up shots of the actress with displayed her highly-pronounced cheekbones.
I can't definitively put my finger on what she's had done other than lots of botox [sic] (which she's denied before) and possible cheek implants. As to the latter, Megan has looked tweaked and cat-faced as recently as the past year. I was hoping that she'd go for a more natural look as part of her recent PR transformation, but in these photos, I keep thinking, 'Madonna chicken cutlets.' Maybe she's just suffering from an unfortunate level of blush application, wrote the blog.
Another blog, In Case You Didn't Know, asked a similar question, Could Megan have had some cheek implants put in? The Yeeeah blog was not so gentle: The way Megan Fox's face is looking these days, I'd have expect her to have 'Mattel' imprinted on her a--. Watertight is not an adjective that should come to mind when looking at someone's face.
Much speculation has surrounded Megan Fox's changing face. In July, Megan Fox took to her official Facebook page to upload an album defending against the plastic surgery rumors. The album was titled Things You Can't Do With Your Face When You Have Botox. In the album, Fox posted four photos of her moving her eyebrows and wrinkling her forehead.
Even then, bloggers were unimpressed. Megan is Botox free. If she had a list of ingredients printed on her a-- cheek, collagen, silicone, alien cartilage and various feline parts would be on that list, but Botox wouldn't! We get it. No Botox. You win, wrote DListed blogger Michael K.
Some are concerned over this new young-Hollywood trend of plastic surgery in the early-20s. We're used to seeing celebs with boob jobs and nose jobs, but lately, we're seeing stars like Lindsay Lohan, Megan Fox, and Jessica Biel looking pillow-faced and almost bursting with fillers like Restylane and Juvederm, not to mention sporting the lineless Botoxed foreheads of twenty-five-year-olds, reads an article on the blog DivineCaroline.
In 2010, The New York Times covered the topic of how young Hollywood hopefuls were flooding into Los Angeles auditions with breast implants, Botox, collagen-injected lips and more. However, filmmakers and casting agents alike began to turn their backs on this surgically modified look.
Television executives at Fox Broadcasting began recruited actresses from Australia and Britain because they exuded a much more natural beauty instead of the amply, endowed freakishly young-looking crowd that shows up for auditions in Los Angeles suffers from too much sameness, reported The Times.
I think everyone either looks like a drag queen or a stripper, said Marcia Shulman, overseer of casting for Fox's scripted shows.
Check out photos of Megan Fox through the years. Do you think the 25-year-old actress has had plastic surgery?
© Copyright IBTimes 2023. All rights reserved.