Meghan Markle Breaks Protocol By Brushing Off Alice Thompson's Handshake For Hug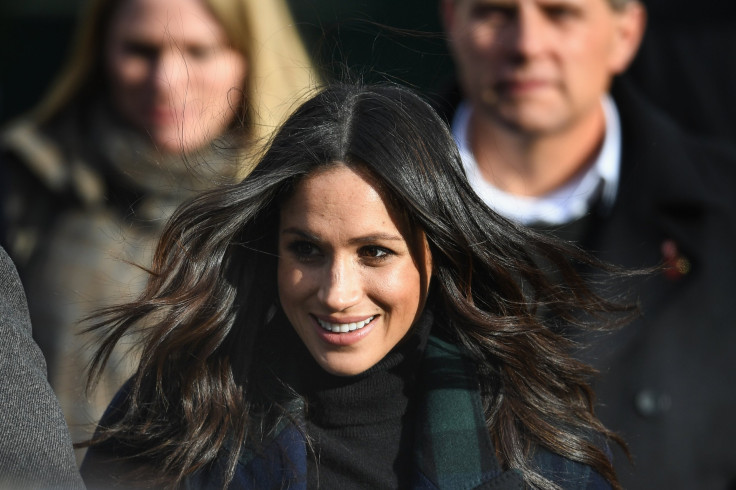 Meghan Markle broke royal protocol once again.
On Tuesday, the "Suits" star and Prince Harry stepped out together to visit Edinburgh Castle in Scotland. During the outing, Markle hugged charity co-founder Alice Thompson instead of giving her a handshake as royal protocol dictated.
"I told her I had often felt overshadowed by my male colleagues and got very close to giving up. But when I saw her UN speech, which I cried most of the way through, I just thought I couldn't give up yet," Thompson told Evening Standard about her encounter with Markle.
Thompson added that Prince Harry's fiancée was touched. In fact, Markle shared to her that she volunteered in soup kitchens and encouraged her that it's important for women to succeed in their business.
As the two women's conversation came to an end, Thompson tried to give Markle a handshake. But the "Horrible Bosses" star brushed it away for a hug. "It was at the end when I went in for a handshake with Meghan and she just embraced me," Thompson recalled. "They were both so genuine - showing the kind of interest and good nature you can't fake."
Thompson also confessed that she broke the royal protocol by not addressing Prince Harry appropriately. But the Duke was kind enough not to mind it.
"I apologised for not following protocol because I completely forgot to call Harry the right thing - but he seemed so down to earth, he didn't seem to mind at all," Thompson continued.
Markle broke royal protocol as the members of the royal family should only shake hands instead of more intimate contact like hugging. Kate Middleton broke the same protocol when she visited the Wimbledon Junior Tennis Initiative and hugged the kids before leaving. The Duchess of Cambridge was also seen giving high-fives in Scotland.
Markle's encounter with Thompson comes after an etiquette expert claimed the members of the royal family should act like royals and stop acting as if they are "one of us."
"For me, royalty should be royal. They are not supposed to be like 'one of us.' They must all be nice people, yes (and they are), but it seems that it's now all a bit too chummy and informal," said the expert. "We don't fund them to be like us. If they are just like any other family, then what's the need to subsidise them? Why not give us the funding then, instead?"
© Copyright IBTimes 2023. All rights reserved.