Meghan Markle, Camilla Parker-Bowles Relationship: Duchesses Laugh Together In These Moments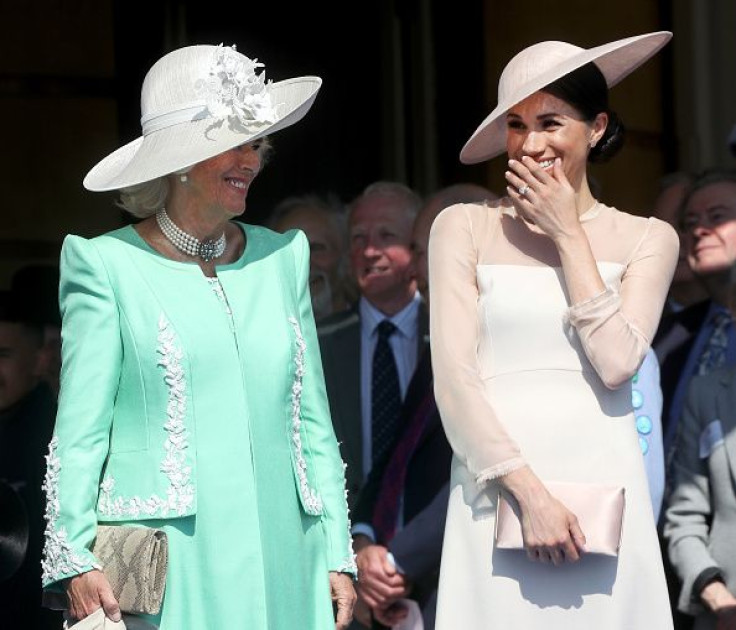 Meghan Markle and Camilla Parker Bowles have a great relationship.
It has been reported that the Duke and Duchess of Sussex have joined the Prince of Wales and Duchess of Cornwall in Scotland. Due to this, Markle and Camilla's relationship was examined.
Based on their encounters, Prince Charles's wife and Prince Harry's beloved are very amicable. In fact, according to Emily Hodgkin, a journalist for Express, Markle and Camilla were seen giggling together in various occasions.
Markle and Camilla were photographed looking at each other while smiling during the Trooping the Colour on June 9. The two women were standing behind the Queen when they shared a cheeky smile while gazing across one another.
Markle and Camilla were also seen greeting each other and chatting at Royal Ascot. Th pair looked animated and happy at each other's company.
Markle and Camilla's friendship made headlines in May after they were seen chatting and holding hands at Prince Charles' 70th garden party. Many were pleased to see that two getting along well.
"They hold hands OMG," Just Juliette wrote on Twitter.
"Oh they're besties now," Maya said about Camilla and Markle's photo.
"Omg. My dreams have come true," one user commented on the post.
"Lovely help for Meghan from the Duchess of Cornwall at the end!" Christin Zi wrote.
"Great to see Camilla has a new ally in the person of Meghan !" Just Juliette commented.
Ryan Kay believes that the Duchess of Cornwall can be Markle's unlikely confidante. In fact, Camilla reportedly helped Markle with her pre-wedding jitters. The two women share a number of similarities and have a lot of things to talk about.
"They would have had much to talk about anyway as both are divorcees and, like Camilla, Meghan is most probably going to be transformed from a commoner into a royal duchess,"
In related news, Princess Diana said in her past interview that Prince Philip advised Prince Charles to get back with Camilla if their marriage doesn't work. The late Princess of Wales had a hint of it and eventually confirmed it when they broke up after five years.
© Copyright IBTimes 2023. All rights reserved.