Meghan Markle Criticized For Wearing Sleeveless Dress At Commonwealth Youth Forum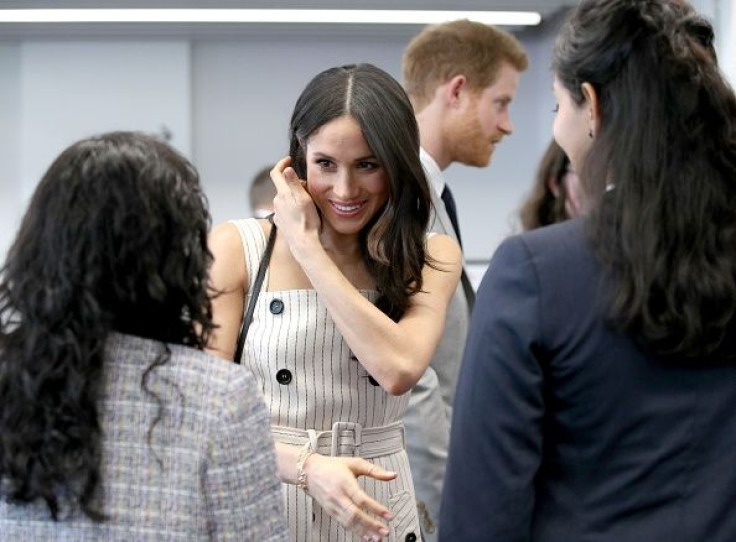 Meghan Markle recently made headlines during her appearance at the Commonwealth Youth Forum with Prince Harry on Wednesday.
The former "Suits" star was photographed wearing a $1,995 sleeveless dress by Altuzarra. But even though Prince Harry's fiancée looked good in her attire, some people criticized her for wearing something inappropriate to the royal engagement.
One Twitter user by the name Ms. Game Theory wrote, "This is why the royal family should not marry commoners. This dress is so… so… not appropriate, to say it nicely."
Another Markle supporter shared her thoughts about the dress on social media. She said that the 36-year-old soon-to-be-member of the royal family should have worn a jacket over her dress.
"Ok, I love Meghan but someone needs to pull her aside and tell her that she needs to stop thumbing her nose at proper styling for events she attends. Put the jacket back on. This is business not a garden party," Janine Aggott wrote.
However, some fans did not find anything wrong with what Markle wore at the forum. One of them said that the "Horrible Bosses" star looked good in her sleeveless dress.
"Meghan looks great & is staying true to her style. I'm glad she isn't wearing a grandma-like dress. Can't wait for her and Harry to marry," Beings of Beauty wrote.
Meanwhile, this is not the first time that Markle was criticized following a public event with Prince Harry. Last month, even the actress' legs were slammed by some people because they appeared to look too thin. Earlier this year, critics also threw shade at Markle for wearing pantyhose.
Since her engagement to Prince Harry, Markle has not been seen wearing pantyhose and fans were impressed at how true she is to herself. But she decided to wear one when she met with Queen Elizabeth II.
"You never see a royal without their nude stockings. I would say that's really the only hard, steadfast rule in terms of what the Queen requires," said Victoria Arbiter, a royal correspondent.
© Copyright IBTimes 2023. All rights reserved.