Meghan Markle Delivers First Royal Speech Without Notes Unlike Sister-In-Law Kate Middleton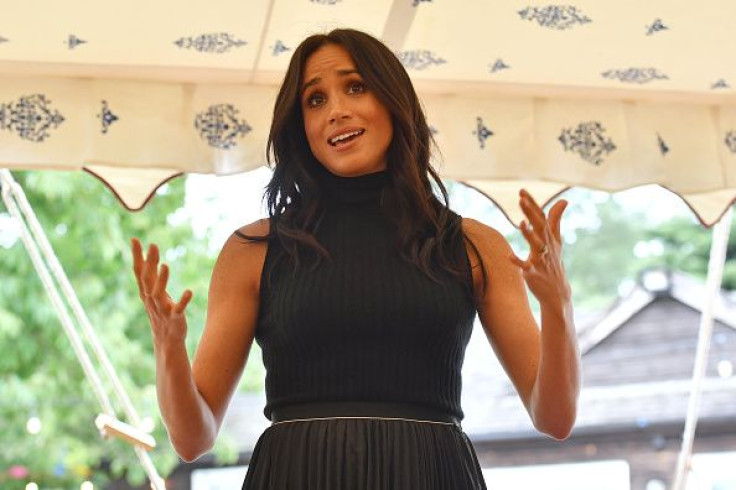 Meghan Markle had a notable difference from Kate Middleton when she delivered her first speech.
On Thursday, the Duchess of Sussex had her first royal hosting event when she launched a cookbook for Grenfell Tower victims. Unlike the Duchess of Cambridge, Markle didn't take any notes when made a speech at the gathering.
"Working on this project for the past nine months has been a tremendous labor of love," Markle said in a clip shared by ITV's Chris Ship on Twitter. "I just recently moved to London and I felt so immediately embraced by this kitchen — your warmth and kindness, and also to be able to be in this city and to see in this one small room how multicultural it was."
This isn't surprising as Markle is good at memorizing lines. On the other hand, People noted that Middleton relied on notes for her speech and frequently paused to look down at them during the address.
"You have all made me feel so welcome and I feel hugely honored to see this wonderful center. I am only sorry William can't be here today," Middleton said when she opened the Treehouse hospice for her first royal speech.
Prince William was away on a six-week military mission at that time. Meanwhile, Markle's mom, Doria Ragland, and husband, Prince Harry, were present on her first solo charity event.
During the gathering, Prince Harry was seen stealing samosas. The Duke of Sussex hid it on his back and noticed that he was caught on camera. Prince Harry stepped back and gave a cheeky smile.
The netizens found the clip adorable. The majority believed that Prince Harry's reaction was adorable and funny at the same time.
"I saw a documentary where Prince Harry did the same when he was a little boy and he visited HM his grandmother at tea time, his mom Princess Diana told him it was ok just don't get caught," one follower commented.
"Hahahaha! I needed to laugh after a distressed day. Liked how he fessed up with that big, broad smile," one user wrote.
On the other hand, Markle's mom reportedly outshined her during the event. According to a fashion expert, Ragland chose the right outfit that made her stood out.
© Copyright IBTimes 2023. All rights reserved.