Meghan Markle Didn't Compete With Kate Middleton At Wimbledon By Doing This
Meghan Markle and Kate Middleton didn't show any sign of rivalry during their first solo outing together.
The Duchess of Cambridge and Duchess of Sussex made their first appearance without their husbands Prince William and Prince Harry at Wimbledon over the weekend. Royal fans clamored to see the royal sisters-in-law together at the event, and the two did not disappoint their followers by showing up at the women's final.
During the outing, Markle reportedly did not try to compete with Middleton. The former "Suits" star just let the royal mom-of-three lead. "She very much let Kate take the lead," veteran royal photographer Mark Stewart told People in this week's cover story.
"There was no rivalry," Stewart continued. "It shows how well Meghan has adapted as she is aware that Kate will be Queen one day and her position is different."
Markle and Middleton have been compared since the former started dating Prince Harry. In fact, there were theories that they could not get along well with each other. "Kate is not especially warm and doesn't like being around people she doesn't know," an unidentified source said.
However, Gossip Cop debunked those speculations. According to the publication, the two duchesses have said kind words to each other in the past and appear to enjoy each other's company when they are together.
Also, Middleton has been helping Markle with her ensembles since she officially became a royal. In fact, many noticed that the "Horrible Bosses" star has been dressing like the Duchess of Cambridge when she made her royal debut and for her succeeding engagements after that.
British designer Caroline Castigliano made the same observation, claiming everything in Markle has changed after she married Prince Harry. "At the moment, she's really dressing like Kate," Castigliano said.
Anna Mewes, a personal stylist, echoed her thoughts. She previously said that Markle is slowly morphing into Middleton.
"Meghan's style certainly bears more resemblance to Kate's since she became Duchess," Mewes said. "Her overall look has become more polished and her hair at recent Royal engagements has been styled in glossy curls and understated up-dos which are almost identical to Kate's."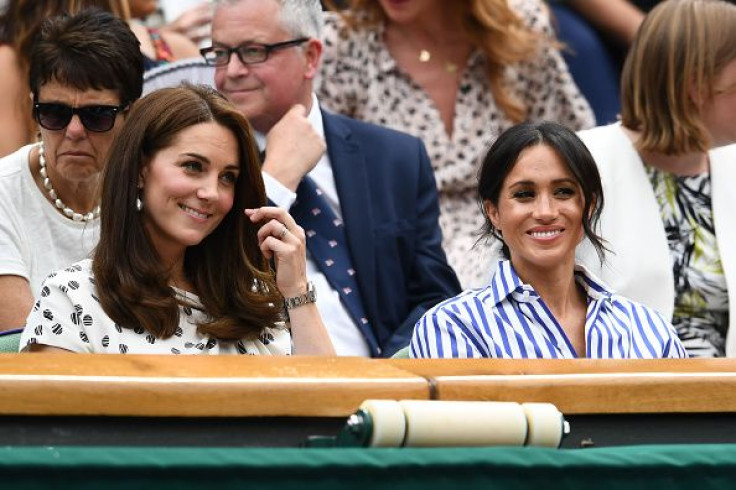 © Copyright IBTimes 2023. All rights reserved.