Meghan Markle Holds Hands With Camilla During Party After PDA With Harry
Meghan Markle and Camilla Parker-Bowles seem to be getting along just fine as they were recently spotted holding each other's hands.
On Tuesday, newlyweds Prince Harry and Markle attended a garden party at the Buckingham Palace for Prince Charles' 70th birthday. The Duke and Duchess of Sussex packed on the PDA upon arrival.
Daily Mail royal correspondent Rebecca English shared the clip, which shows Markle caressing her husband's back as they ascended the stairs and walked toward the venue, on Twitter. "And it's goodbye from us....(clearly the post wedding glow hasn't rubbed off given that PDA!) #DukeandDuchessofSussex," English wrote in the caption.
Later on, Markle was spotted with the Duchess of Cornwall. Markle and Camilla were seen sharing some laughs with Prince Charles. But the two duchesses had a sweet moment of their own.
Daily Mirror's photographer Ian Vogler captured the moment Markle and Camilla held hands while looking into each other's eyes during a conversation. Netizens were quick to react to the photo, with most taking it as a positive sign.
"They hold hands OMG," Just Juliette wrote on Twitter.
"Oh they're besties now," Maya said about Camilla and Markle's photo.
"Omg. My dreams have come true," one user commented on the post.
Marie shared a clip of Markle and Camilla's sweet encounter. "I never knew I needed this moment between Meghan and Camilla," she wrote in the caption.
Meanwhile, others said they think Markle and Camilla will make a great duo.
"In this house we stan an already iconic Camilla/Meghan duo oh yes we do," Alexandra posted.
"Lovely help for Meghan from the Duchess of Cornwall at the end!" Christin Zi wrote.
"Great to see Camilla has a new ally in the person of Meghan !" Just Juliette commented.
According to previous reports, Camilla helped Markle with her pre-wedding jitters. Ryan Kay stressed that Camilla and Markle have a number of similarities which helped them hit it off immediately.
"They would have had much to talk about anyway as both are divorcees and, like Camilla, Meghan is most probably going to be transformed from a commoner into a royal duchess," Kay wrote.
The Prince of Wales and the Duchess of Cornwall have been very warm to Markle. In fact, they also welcomed her mom, Doria Ragland, and had tea with her when she arrived in London ahead of the royal wedding.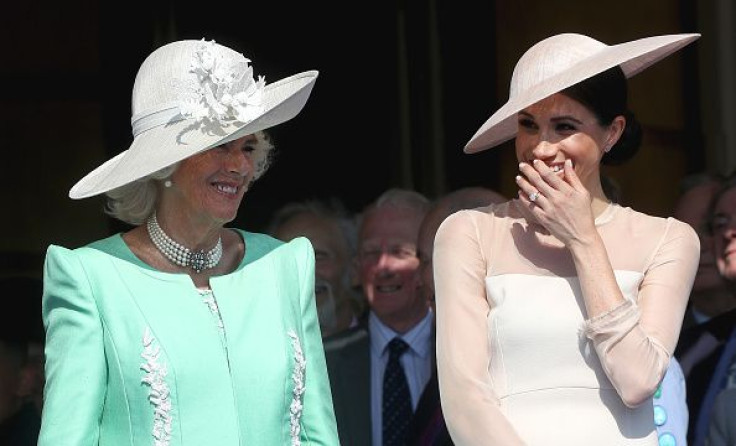 © Copyright IBTimes 2023. All rights reserved.
FOLLOW MORE IBT NEWS ON THE BELOW CHANNELS