Meghan Markle, Prince Harry Called 'Unprofessional' On Twitter Over Invictus Games Kiss
KEY POINTS
Prince Harry and Meghan Markle shared a kiss on stage after she introduced her husband at the opening ceremony of the Invictus Games
Some social media users claimed it was "unprofessional" of them and accused the couple of upstaging the participants
Fans of the Sussexes swooned over the rare public display of affection from the couple
Meghan Markle and Prince Harry's sweet kiss during the opening ceremony of this year's Invictus Games received mixed reactions on social media.
The Duke and Duchess of Sussex jetted off to The Hague in the Netherlands this week for the 2022 Invictus Games.
The couple took the stage during the opening ceremony of the games Saturday, with Markle introducing Prince Harry as the founder of the annual international sporting event. They shared a rare public kiss onstage before the duke began delivering his speech.
While fans of the Sussexes gushed over the rare public display of affection from the couple, some social media users felt that it was an "unprofessional" move on their part. Others accused Prince Harry and Markle of upstaging the military service members and veterans who are competing in the sporting event.
"It's so unprofessional. They use the Invictus Games (100% connected to their royal past) for Netflix. To directly cash in from it, which is the opposite of 'charity.' The focus should be on the games and the veterans, not on them. Meghan shouldn't even be there. It was Harry's thing," one Twitter user claimed.
"So unprofessional. This is about the wonderful veterans, not the Meghan and Harry show. ... With Netflix, they have turned [the event] into all about the [money]," a second person claimed.
Another critic pointed out that it would have been fine if it was a "congratulatory kiss like at the Oscars," but it seemed "very unprofessional" when done at a setting like the opening ceremony of the Invictus Games.
"Cringefest. They are trying way [too] hard to sell us their 'fairytale' rather than the Invictus Games. Can we get some stories about the competitors rather than the upstaging couple?" another wrote.
Unlike their critics, however, Prince Harry and Markle's fans swooned over the sweet gesture, with a number calling them "couple goals."
"[They are] a couple who sleep in the same bed, a couple who actually love each other," one person commented.
Another Twitter user wrote, "So many beautiful moments, but the kiss made me swoon."
"Power couple! Prince Harry and Duchess Meghan love and respect each other. Even their non-verbal communication says it all. These two are an unstoppable and huge force to reckon with whether 'they' like it or not. Congratulations, power couple! This year's Invictus game rock!!!" another fan wrote.
"People who actually love each other kiss and hold hands and hug. Love lives here," a fourth supporter opined.
During his speech Saturday, Prince Harry gave a special shoutout to his and Markle's 2-year-old son Archie when talking about the participants as role models.
"When I talk to my son, Archie, about what he wants to be when he grows up, some days it's an astronaut. Other days it's a pilot. A helicopter pilot obviously. Or Quasi...from 'Octonauts,'" the prince said. "But what I remind him is that no matter what you want to be when you grow up, it's your character that matters most. And nothing would make his mum and me prouder than to see him have the character of what we see before us: you."
The duke and duchess are also parents to 10-month-old daughter Lilibet Diana.
The Invictus Games runs through April 22.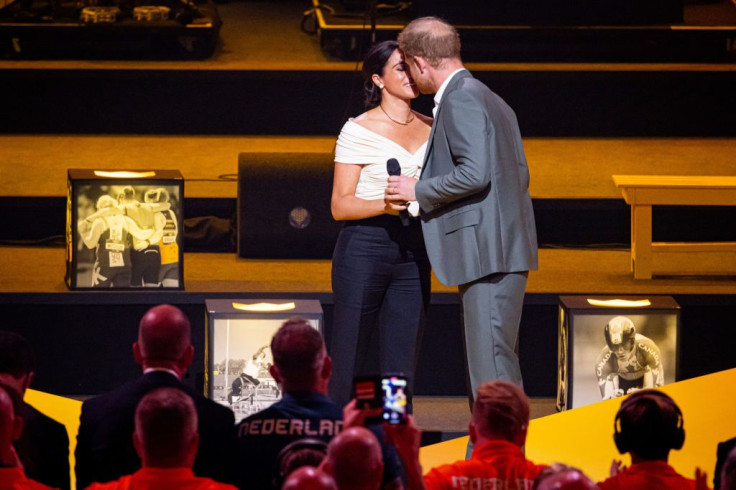 © Copyright IBTimes 2022. All rights reserved.
FOLLOW MORE IBT NEWS ON THE BELOW CHANNELS