Meghan Markle Vs Kate Middleton: Netizens Reveal Who Had Better Wimbledon Outfit
Meghan Markle and Kate Middleton watched Wimbledon together over the weekend, and the two women had obviously different styles. But which outfit did netizens prefer?
On Saturday, the Duchess of Sussex and the Duchess of Cambridge stepped out together to watch the women's singles finals. It was the first time that Middleton and Markle had an outing without their husbands, Prince William and Prince Harry, respectively.
Middleton donned a summery white dress, while Markle opted for a striped blue and white shirt with white pants for the outing. After seeing the two duchesses together, some netizens took to social media and comment on which of the two dressed better.
"Meghan definitely has better taste," Twitter user M.K. wrote.
"Meghan's style is more modern, simplistic, and clean compared to Kate's. I feel she has a better grasp of what suits her, so I have to agree," another user named Nina said.
"If I could copy one it would be Meghan's - with emphasis on her purses & wrap coats. Love her pants looks too," JacqB wrote.
"Meghan is classy, chic and she rings the changes. Kates style is more predictable, safe and less exciting," Lizzie said.
"I prefer Meghan's style modern, classic and more youthful. Both looked nice and dress different," mimigirl added.
"Meghan has style Kate dresses to be safe," another user wrote.
However, not everyone prefers Markle's look as many also favored Middleton's. "You know that book, The Boy In The Striped Pajamas? It's a bit reminiscent of that. Sorry. I think Kate looked nicer, but also that it shouldn't be a competition. They are both amazing women!" Trahlyta Miller wrote.
"OMG. Kate is classy. Meghan is cheap. Not a comparison. How can you compare. Kate is spotless," Lucas commented.
"I prefer Catherine's style," Karen Callahan wrote.
"Kate is waaayyyyyyy BETTER!!!" TiahMarie said.
In related news, some stylists recently noticed how Markle's style has changed and become similar to Middleton's. In fact, according to Anna Mewes, the new duchess is slowly morphing into Middleton.
"Meghan's style certainly bears more resemblance to Kate's since she became Duchess," Mewed told Express. "Her overall look has become more polished and her hair at recent Royal engagements has been styled in glossy curls and understated up-dos which are almost identical to Kate's."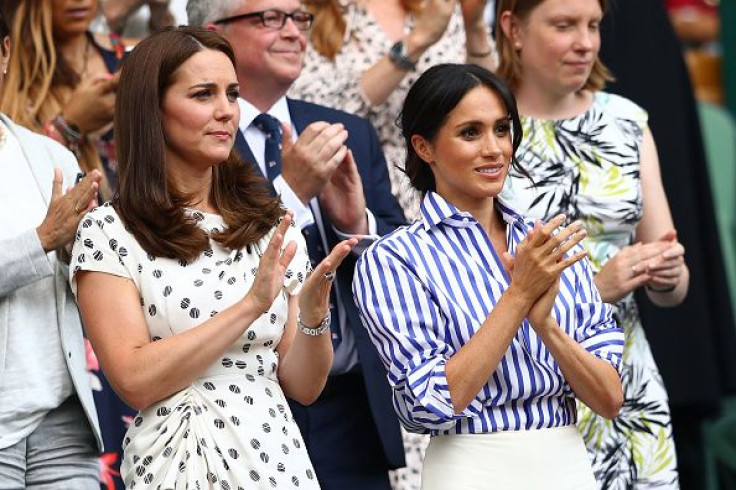 © Copyright IBTimes 2022. All rights reserved.
FOLLOW MORE IBT NEWS ON THE BELOW CHANNELS