Meghan Markle Will Make 'Epic PR' After BAFTAs Snub, Netizen Claims
There is no word if Meghan Markle is invited to the BAFTAs, but Prince William and Kate Middleton are confirmed to attend the event.
The Duke and Duchess of Cambridge will attend the EE British Academy Film Awards for the third time in a row. The royal couple will join the star-studded event on Feb. 10. Last year, Prince William and Middleton also graced the event even if Middleton was heavily pregnant with Prince Louis at the time.
This triggered one netizen to react to the news published by Daily Mail. The netizen is happy that the Duchess of Sussex will not be at the event but predicted that Markle will make a scene on that day.
"Thank you BAFTAs for sparing the public by exlcuding #MeghanMarkle & her #moonbump. Also, mark you calendar for epic PR fluff pieces from Meg that day…" the netizen wrote on Twitter.
Meanwhile, a number of netizens also reacted to Daily Mail's article. One said that Prince William will surely be shocked if Markle were to make an unexpected appearance from the backstage to present the fellowship award.
Another user suggested that Markle should be placed in lockdown that evening. "If she did manage to crash... would probably be the end of her for sure," the netizen added.
A different user poked fun at Markle by suggesting that the Duchess of Sussex will surely be insecure with Middleton because she's the actress and should be the one attending the event. Another commented on Middleton's pregnant photo at the BAFTAs last year and threw shade at Markle by saying that's how "real pregnant woman" should look like.
Just recently, Kensington Palace showed concern over the online attacks that Middleton and Markle have been receiving from trolls. However, many believed that the Duchess of Cambridge wasn't really the target of the trolls and they insisted that only Markle suffered extreme backlash from her critics.
Markle was recently criticized after a clip of her flicking her coat to expose her baby bump resurfaced. The duchess was attending an event and was seen touching her coat several times to show her belly to photographers.
One fan described the 14-second video as the "most damning clip" she saw about the duchess. She also noted how Markle stopped from clapping momentarily just to flick back her coat and make her baby bump visible while the camera flashed.
Meanwhile, others couldn't bare Markle's habitual gestures of touching her baby bump. Many netizens already told Markle to stop doing it because her bump won't fall off and they are already aware that she's pregnant.
Markle's fans felt that she received unfair criticisms because Middleton, Princess Diana and other royal moms also did the same gesture but they were not bashed. One netizen shared a snap of the royal moms touching their baby bumps on Twitter to support her claim about the unfair treatment that the new duchess has been receiving from the public.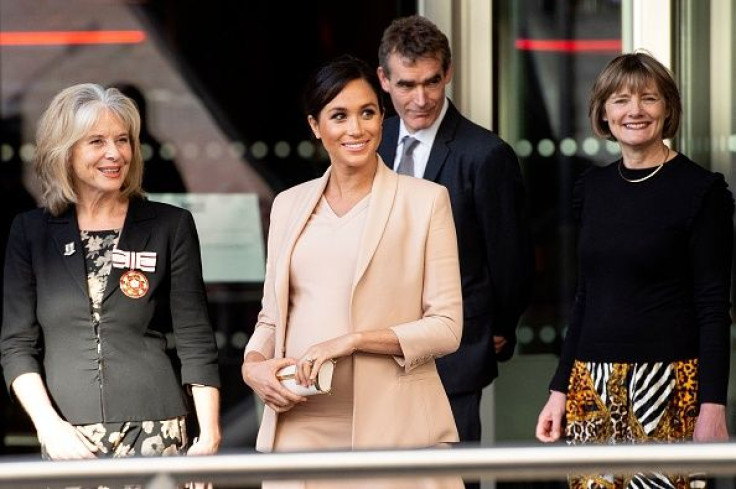 © Copyright IBTimes 2023. All rights reserved.