Meghan Markle Slammed For Flicking Coat To Expose Baby Bump [WATCH VIDEO]
Meghan Markle is slammed after she was caught flicking her coat to expose her baby bump.
A number of netizens have already noticed how the Duchess of Sussex has been constantly rubbing her belly since announcing that she's expecting her first baby with Prince Harry. And unfortunately for her, the public felt that she's overdoing it.
Aside from touching her tummy, Markle was seen doing this little trick to expose her baby bump — she flicked her coat several times to ensure that her bump was in the spotlight. One user shared a clip on Twitter of Markle touching her coat several times during an event to show off her baby bump. The netizen described Markle as a "certifiable" woman.
The gesture didn't sit well with the netizens. One netizen found Markle's actions "weird." Meanwhile, another directly slammed the pregnant royal for doing so.
"This is the most damning clip: she literally stops clapping momentarily to 'flick' back the coat & expose the bump — all because the cameras are flashing & she wants the perfect picture of her & the golden meal ticket," the user wrote.
Another user commended Markle, saying it was "well played." The netizen confessed that she loved the Duchess of Sussex when she was still part of "Suits," but she noticed that Markle changed and became "fake," "deceiving" and "attention-grabbing."
Body language Judi James also noticed how Markle incessantly touched her coat to ensure that her baby bump was fully visible on previous outings. She also pointed out how the other royals would keep their bumps "discreetly veiled" and how the pregnant duchess has been doing the opposite.
Meanwhile, stylist Lucas Ermitage noticed how Markle is enjoying her pregnancy by making sure that her baby bump is fully visible in her choice of wardrobe. Markle has been seen wearing figure-hugging dresses. However, he felt that Markle was having a hard time choosing coats that would work over her bump.
"She is also obviously happy to show off her bump as she's wearing fitted dresses under the coats. So it may be that she's intentionally opting for coats that she can't do up," he told Daily Mail.
In related news, some experts recently explained why Markle kept on touching her baby bump in previous public appearances. A number of netizens also shared their thoughts on the matter and claimed that Prince Harry's wife did it because she was "acting" or was "insecure."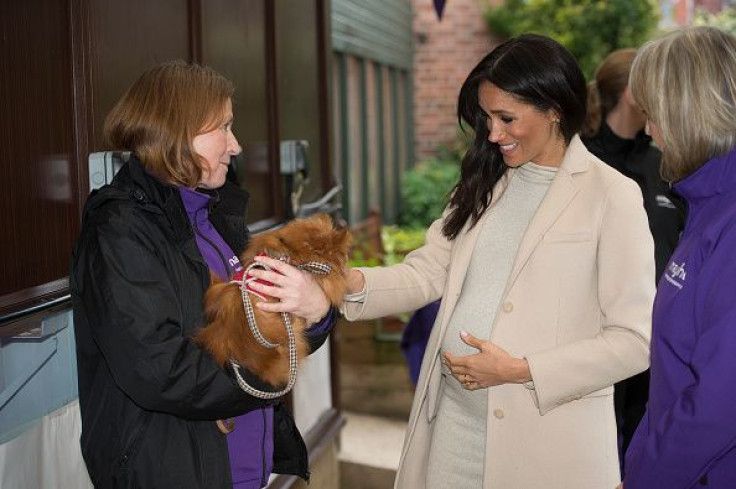 © Copyright IBTimes 2023. All rights reserved.