Meghan Markle's Racy Photos Used Against Kate, Prince William In This Way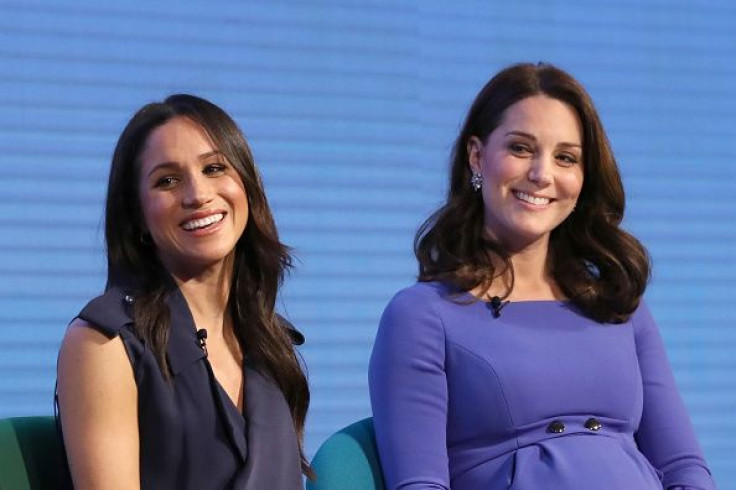 French lawyers used Meghan Markle's sexy photos against Prince William and Kate Middleton.
In 2012, the Duchess of Cambridge's topless pictures made headlines after French Closer magazine published them. The shots were taken while Prince William and Middleton were on vacation at a Provence chateau owned by the Earl of Snowdon. The royals ordered the publication to pay for damages and the couple was rewarded a $123,022 payout.
The French lawyers are now taking action to appeal the case in Versailles, west of Paris this week. According to Closer's lawyer Paul-Albert Iweins, the fines were "exaggerated for a simple privacy matter" in which French fines often amount to a token "principle" sum of less than $133, British journalist Peter Allen wrote on Daily Mail.
The publication's counsel pointed out that it would be "hypocritical" of the Duke and Duchess of Cambridge to claim such compensation when other members of the royal family, such as Markle, are happy with their sexy photos.
"They are happy with sexy photos of themselves when they are in control, but then claim huge amounts of money when they're unauthorised," one legal source said. "There's ridiculous hypocrisy involved, and the outrageous compensation figure reflects this."
The lawyers referred to Markle's photos and "Grilling Never Looked So Hot With Meghan Markle" videos where she took off her clothes while grilling burgers for Men's Health magazine in 2013. The publication noted that the evidence may include photos of Markle allegedly exposing her breasts for the camera on a beach. The Duchess of Sussex's controversial pictures were all taken before she started dating Prince Harry.
Markle confessed earlier that when she was an auditioning actress, she was "willing to do things like that," referring to women's roles as being overly sexualized. In fact, she considered her experience with "Deal or No Deal" as among the things she did to "make ends meet."
"I would put that in the category of things I was doing while I was auditioning to try to make ends meet," Markle said. "I would end up standing up there forever in these terribly uncomfortable and inexpensive five-inch heels just waiting for someone to pick my number so I could go and sit down."
Markle is an active advocate of women's rights and feminism. The Duchess of Sussex encourages women to recognize their value and turn down roles that only sexualize them because it's unnecessary.
© Copyright IBTimes 2023. All rights reserved.