Megyn Kelly Pregnant: Fox News Anchor Expecting Third Child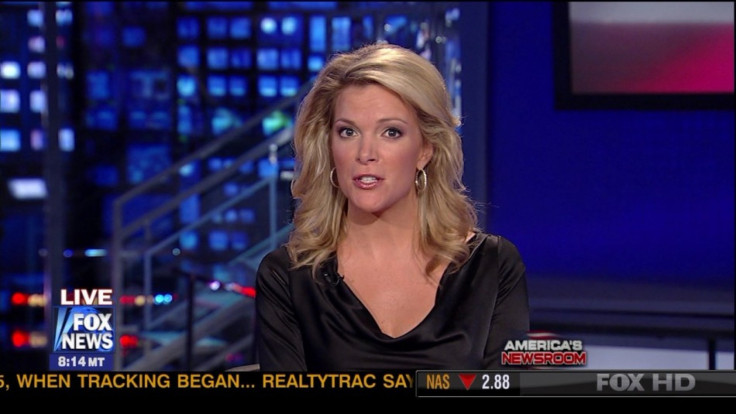 Fox News anchor Megyn Kelly shared a very Valentine's Day-appropriate piece of news on Thursday: She and her husband, Douglas Brunt, are expecting a third child.
The 42-year-old anchor made the announcement while hosting "American Live," after she was asked what she was planning to give her husband for the romantic day. Kelly told viewers that while she and Brunt always have trouble picking out the right Valentine's Day gift for one another, this year the couple finally "found the perfect solution."
"Happily, Doug and I are expecting another baby," Kelly said. The news personality was quickly congratulated by her co-hosts, included weather woman Janice Dean, who said, 'Oh my God we're so excited for you."
In celebration, Kelly was given a bouquet of roses, balloons and a pink boa, which she wore for the rest of the segment. Clearly in good spirits over the happy news, Kelly joked with viewers that until her baby's delivery, which is expected to be this summer, she would probably only be shot sitting behind a desk.
"There's not going to be a lot of stand-up shots in the near future folks," Kelly said.
Brunt, is the President and CEO of the Internet security software company Authentium. Together the couple has two children together, a 3-year-old son, Yates, and a 2-year-old daughter, Yardley.
Brunt and Kelly met on a blind date and were married in a small ceremony in Huntington, N.Y., in 2008, the New York Times reported. Brunt, unable to wait to buy a real engagement ring bought Kelly a costume ring that reminded him of the "Heart of the Ocean" diamond in the 1997 film "Titanic," and proposed to her by the beach.
"I was so stunned that I just sat there staring at him, thinking, 'What is he doing?'" Kelly said.
"She took so long to answer that I thought I had just made a total fool of myself," Brunt added.
Shortly after making the announcement, Kelly tweeted out a message thanking fans and friends for the well wishes.
"Thank u from the bottom of my heart for all the good wishes re: news that @DougBrunt & I are expecting our 3d child," Kelly tweeted. "Overwhelmed by love! Xo"
© Copyright IBTimes 2023. All rights reserved.