Melania Trump Allegedly Does This To Show She's Upset With The POTUS, Book Claims
KEY POINTS
Melania Trump gives her husband, President Donald Trump, the silent treatment when she is upset with him
The FLOTUS canceled some events with the POTUS because she was upset with him
The first couple has a "very unusual relationship"
Melania Trump allegedly does a signature move to show her husband, President Donald Trump, that she is upset with him.
The first couple's marriage has been the subject of various rumors in the past years. Pulitzer-Prize-winning journalist Mary Jordan also covered the FLOTUS and POTUS' relationship in her new book entitled "The Art of Her Deal: The Untold Story of Melania Trump."
Trump and Melania have been married for over a decade already. According to Jordan, Melania does a signature move whenever she is upset with her husband – she gives him the silent treatment because he doesn't like it.
"The way she shows that she's upset with Trump is to walk away, to be invisible, and he doesn't like that," Jordan wrote in her new book, as quoted by Express.
"He likes the very good-looking younger wife at his side."
Jordan also mentioned different incidents when Melania was allegedly upset with her husband and decided to not accompany him in his engagements.
"So, she cancelled going to Davos [for the World Economic Forum], for instance, in the first year, very abruptly," Jordan added.
"She didn't get in the car with him to go to the State of the Union, a 10-minute car ride, after there were lengthy reports about infidelities with Stormy Daniels and Karen McDougal," the journalist continued.
Many have previously questioned Melania and Trump's relationship. In fact, there was a time when the hashtag "#FreeMelania" trended online. Several were concerned about the First Lady because they thought she was not happy with Trump in the White House.
However, Jordan addressed the issue in her book. According to her, there was nothing to be worried about because the couple is much more similar than people think.
It's also true that both don't spend so much time together, but Jordan pointed out that both are "happy to be separated."
The distance between them doesn't reduce the quality of their marriage. In fact, whenever Trump delivers speeches, Melania is the first person he calls because he trusts her. Meanwhile, she also makes sure to watch his speeches on TV.
"So they have a very unusual relationship, but there is a bond there: they have a deal, right from the beginning. He loves himself, he loves his job, he's got his own life and he spends a lot of time apart from her. And she's absolutely fine with that," Jordan wrote.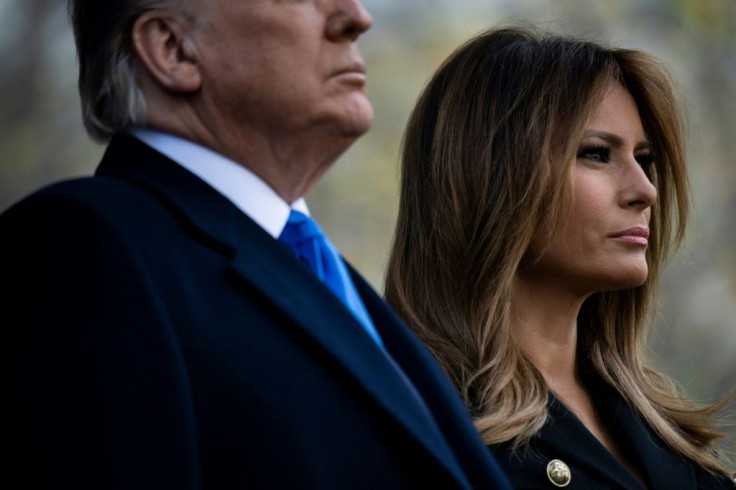 © Copyright IBTimes 2023. All rights reserved.