Melania Trump Called 'Disgusting,' Taunted About Celebrating Last Christmas At The White House
Melania Trump recently shared a series of photos from this week's National Tree Lighting at the President's Park.
In her post, the FLOTUS said that she loved seeing everyone in the holiday spirit during the event. But her critics couldn't help but question her sincerity.
"Too bad there are so many children in cages tonight while you have fun," one Twitter user wrote.
"Everyone but those kids and cages and their scared parents…" Twitter user dohman added.
"Glad you were having fun while yet another child died in custody at the border," Twitter user Susan Brooks wrote.
But Perry Hauck defended Melania and Donald Trump by saying that they can't control the people that bring the flu and other diseases to the border.
"They can't control people that bring the flu and other diseases that were eradicated in the USA and Canada. Those people should not be allowed to come close to the border. It's their own fault," he said.
Other critics called the FLOTUS disgusting for celebrating Christmas and encouraging everyone to be in the holiday spirit when there are just too many problems in the country.
One Twitter user targeted the first lady's coat by saying that it looked nice and warm. "Too bad the child that died from the flu while in detention couldn't have one to keep him warm and alive," the critic wrote.
But several other Twitter users said that they liked the FLOTUS' coat at the National Tree Lighting event.
"Absolutely stunning just like FLOTUS," Rose Riscili wrote.
"Beautiful and graceful as always," Sheryl England DVM added.
Other critics also hinted at Trump's impeachment by saying that they hope this will be the Trumps' last Christmas in the White House.
"Impeachment is coming, impeachment is coming, impeachment is coming," Angie wrote.
And other critics also asked why Donald and Melania's 13-year-old son wasn't at the event.
"I'm so old that I can remember when lighting the national Christmas tree was an event for the whole First Family. But that was when the president knew the names of and actually recognized his children, before the era of He Who Must Not Be Named," John Lorenz tweeted.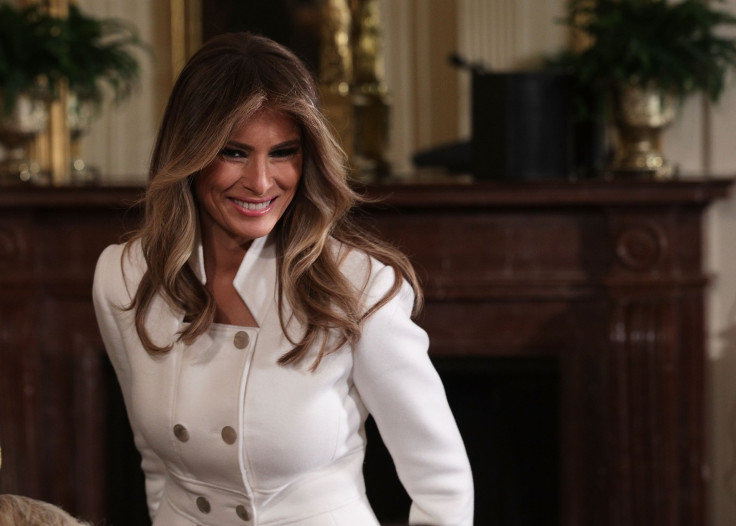 © Copyright IBTimes 2023. All rights reserved.