Melania Trump No Longer 'Shadows' Donald Trump, FLOTUS Doesn't Mind Upstaging POTUS
KEY POINTS
Melania Trump's body language has changed over the years.
Melania Trump was praised after visiting children.
Melania Trump and Donald Trump don't engage in PDA.
Melania Trump has been serving Americans as the first lady for the past three years. And she has reportedly eased into her role and has become more confident over time.
While speaking with Express, body language expert Judi James said that the FLOTUS' key focused used to be on her appearance and her desire to look beautiful whenever she's out in public.
"Her body language is more red carpet than White House, suggesting she saw herself more like a beautiful attachment than the kind of role equal that we saw from previous presidents, especially the Obamas," she said.
When Donald Trump became president, Melania decided to take a backseat, especially during the first few months. The first lady was involved in low-key status and posing while President Trump received all the attention.
The POTUS used to always be the star of the show, while the FLOTUS stood in the sidelines. The couple also didn't engage in PDA. But her turning point came after Melania finally saw herself as fully-pledged first lady.
"Instead of shadowing her husband, spontaneous looking waves and direct connections to her audience suggest growing confidence and a growing lack of wariness about upstaging Trump," James said.
The body language expert added that the FLOTUS also became less worried about overshadowing President Trump, and she also took advantage of her growing popularity. Barron Trump's mom also let go of her model posing gestures and opted for a pseudo-military stance that presented her and her husband as equals.
Meanwhile, the FLOTUS has also been gaining more popularity and respect from her supporters. She recently posted about her partnership with Toys For Tots USA and was praised for making sure that all children would get at least on toy under the Christmas tree.
On Twitter, netizens praised her for her effort and dedication to the youth.
"Amazing First Lady," Twitter user @Jennife84436412 wrote.
"Thank you from the Great State of Mississippi, for being the most loving, caring, and diligent FLOTUS ever!" Twitter user @SloppyTrudger wrote.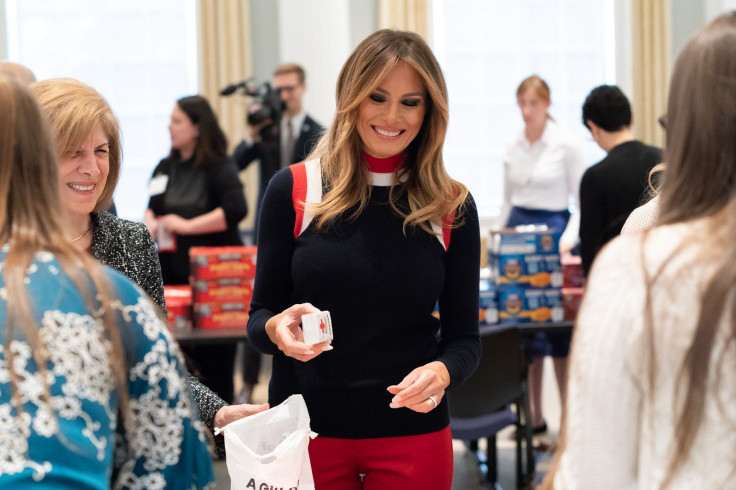 © Copyright IBTimes 2023. All rights reserved.