Melania Trump Shares Practical Ways To Keep Family Safe Amid COVID-19 Pandemic
KEY POINTS
Melania Trump encouraged every family to wash their hands regularly and limit all crowds
The First Lady also reminded parents to cheer their kids up and tell them that the pandemic wil not last forever
The FLOTUS encouraged the people to wear masks amid the pandemic, but her call backfired
Melania Trump continues her effort to help families amid the pandemic by sharing a video showing practical ways to keep every household safe and healthy during the global fight against the coronavirus.
In the almost one-minute video, the First Lady shared some tips that every family can practice at home to keep the virus at bay. One of the things she suggested was hand-washing.
"First, hand washing is essential," Melania said in the video she shared on Twitter.
"Children should wash their hands after coming in from outside, before eating, after coughing, sneezing or blowing their little noses."
Second, the FLOTUS suggested to "limit all crowds" and reminded everyone to avoid shaking hands or hugging because such gestures can spread the virus. She also expressed concern over the mental health of children during the crisis.
"Changes need to be made now. I encourage parents to let children know that this will not last forever. I urge you to stay connected to family and loved ones. Stay safe. And remember, while many of us are apart, we are all in this together," she added.
Melania's message received mixed responses from the netizens. Many brought up her "I really don't care jacket." Others attacked Melania over her husband, President Donald Trump, handling of the coronavirus pandemic.
"Unfortunately I can't believe you care..." one commented.
"Our family could've stayed healthy and still had our jobs if Donald Trump had told the truth. The San Diego Convention Center has lost $1.3 billion of business in San Diego because of Donald Trump not telling everyone to wear a mask letting the buyers take over America," another wrote.
Meanwhile, several also showed their support for the first family and thanked Melania for her message.
"I am so proud of you and the work you do for children. They need a strong support system and respectable voice speaking for them. Thank you!" @kym6366 wrote.
"God bless you and your beautiful family your love and hard work of you and our President is much appreciated we pray that you keep doing Gods work #SaveTheChildren," another added.
In July, Melania encouraged people to wear face masks. However, the FLOTUS' message backfired, with some saying she was already months late.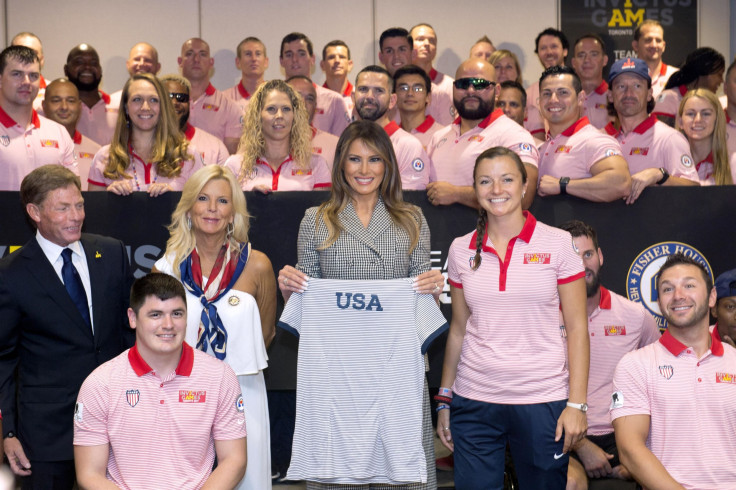 © Copyright IBTimes 2023. All rights reserved.