Members Of Pussy Riot Attacked By Cossacks In Sochi With Whips And Pepper Spray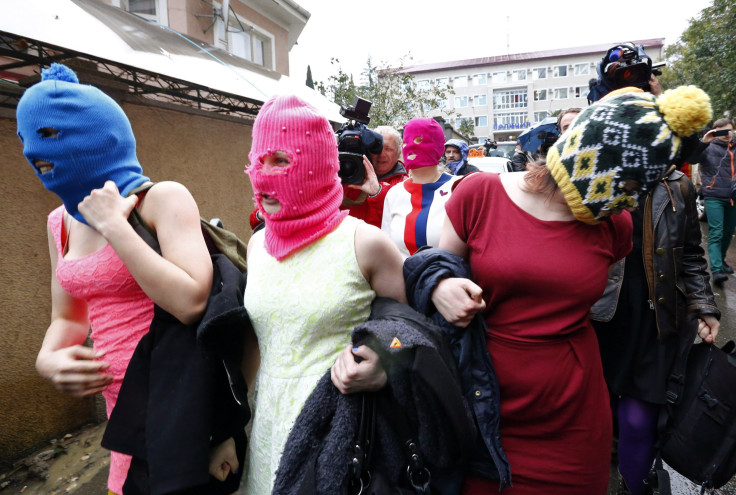 Members of the Pussy Riot punk group were attacked by Cossacks with whips and pepper spray on Wednesday in Russia's Black Sea city of Sochi, which is hosting the Winter Olympic Games.
According to reports, the incident took place when band members tried to perform a song in front of a sign advertising the Olympic Games. A video was posted on YouTube showing members of a Cossack militia and security officials attacking the group as they pulled out their guitars and microphones to perform.
The video shows the Cossack militia members pushing Pussy Riot members to the ground before pulling off the brightly-colored ski masks worn by the band. One militia member is seen whipping several members of the group while another uses pepper spray. Associated Press reported that police arrived at the scene and questioned witnesses but did not make any arrests.
According to media reports, Alexander Tkachev, governor of the Krasnodar region, promised a "thorough probe" into the incident. He also added that the views of Pussy Riot "are not supported by the majority of people in the region" but stressed that abiding by the law was very important.
U.S. State Department deputy spokeswoman Marie Harf on Wednesday criticized the frequent attacks on protesters in Russia but did not directly mention the attack on Pussy Riot members.
"We continue to support the rights of all Russians to exercise their fundamental freedoms of expression and assembly, as we say all the time, and of course condemn the use of violence against any protesters," Harf reportedly said.
The incident took place a day after Pussy Riot members Nadezhda Tolokonnikova, Maria Alyokhina and three others were detained by local police for hours. According to reports, local police said the band members were detained for questioning regarding a theft at their hotel.
Tolokonnikova and Alyokhina gained international attention in 2012 after Russian authorities arrested them for making an anti-Vladmir Putin music video in a Russian Orthodox Church in Moscow. Tolokonnikova and Alyokhina were supposed to be held until April 2014, but were released in December 2013.
Check out the video of the attack on Wednesday here:
© Copyright IBTimes 2023. All rights reserved.