Metallica At Grammys 2014: Band Plays 'One' With Pianist Lang Lang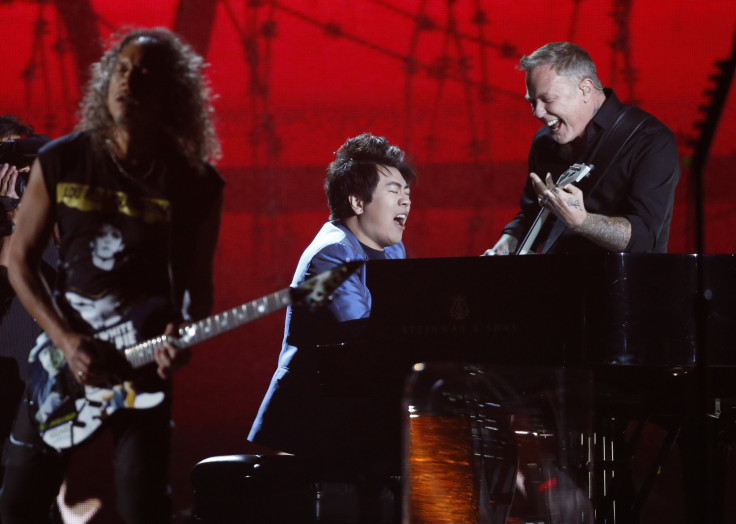 Metal usually isn't in the limelight at the Grammys, but at the 56th installment of the awards on Sunday, one of the heaviest bands in the land, Metallica, whipped the crowd into a frothing, head-banging frenzy. Still, it wasn't a performance most Metallica fans were used to.
Metallica performed their explosive, bleak 1988 hit "One," from the group's speed-metal milestone "...And Justice for All." This time, however, the metal legends were accompanied by classical pianist Lang Lang.
As Jared Leto -- who had just given a brief tribute to the late Loud Reed -- pointed out while introducing Metallica (which collaborated with Reed on the 2011 album "Lulu"), this wouldn't be the first time the group would play "One" at the Grammys. But it was definitely the first time the band would perform it at the ceremony in this particular way.
Some might remember that Metallica's "One" was nominated for a Grammy for Best Hard Rock/Metal Performance in 1989, but the group ended up losing to Jethro Tull.
On Sunday night, the Men in Black, even though they weren't up for a Grammy themselves, definitely delivered a winning performance. After Metallica roared through the middle part of the song with ferocious riffs, the lead guitar parts of Kirk Hammett were complemented by Lang's stately, exquisitely rendered piano -- and that stunned the crowd even more than the song's incendiary, sonic-warzone climax.
The song's lyrics are based on Dalton Trumbo's 1939 novel "Johnny Got His Gun," which tells the story of a soldier who was hit by an an artillary shell and loses his limbs, eyes, ears and mouth. The soldier's mind continues to function perfectly, though, and the young man is left trapped inside his own body. Trumbo directed the movie adaptation in 1971, from which the the music video footage for "One" was taken.
© Copyright IBTimes 2023. All rights reserved.
FOLLOW MORE IBT NEWS ON THE BELOW CHANNELS