Metallica Will Rock Antarctica This December, Audience Will Listen Via Headphones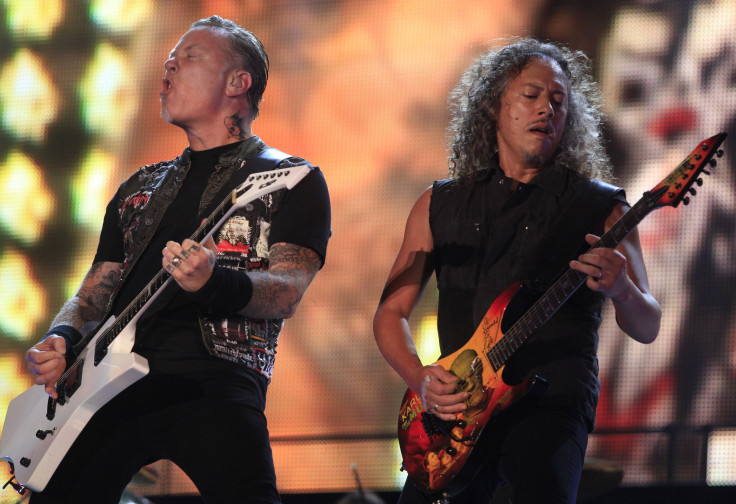 It's a harsh, unforgiving, wickedly cold place. No permanent human residents live there. It's the only continent that Metallica hasn't performed at yet -- but the band is saving the coldest one for last.
Hot on the heels of its long-awaited 3-D film, "Through the Never," Metallica has announced that it will perform a Dec. 8 gig in Antarctica, at Carlini Station, an Argentine base located on King George Island, or Isla 25 de Mayo, CNN reports.
Last month, Metallica drummer Lars Ulrich hinted to a San Francisco radio station about the upcoming concert. "There's a very interesting thing coming our way in December ... There's another frontier heading in Metallica's direction in December. Which, if anybody [at the band's management] even knew that I just said what I just said, they would hunt me down and silence me. But there is another frontier coming in December, which we're very excited about," Ulrich said, via Blabbermouth.
When the guys perform in the frozen region at the bottom of the Earth, they won't be using their usual sound system. "We'll be playing inside a dome on the base and in another twist, the show will be transmitted to the audience via headphones with no amplification ... a real first for us!" the group wrote on its official website. The glacier-melting event will also be streamed live in Argentina, Chile, Columbia, Costa Rica and Mexico and filmed "to share with everyone at a later date."
So far, the band hasn't explained why the sound will be delivered via headphones, the Guardian reports. Some suspect it could be a logistics issue: This way, Metallica won't have to haul its usual immense mass of equipment over the Drake Passage. The gig -- arriving through a partnership with Coca-Cola (NYSE: KO) -- will comply with Argentina's environmental management program for Antarctica and adhere to international Antarctic-Environmental Protocol guidelines, Coca-Cola notes.
But no matter how the performance will get to the ears of the rabid fans in attendance, a Metallica gig in Antarctica seems to make perfect sense -- when you think about the band's music. Sure, many a metalhead would describe Metallica with adjectives like fiery, explosive, smoldering, even combustive. Others, however, would argue that there's a cold, icy, eardrum-chilling element coursing through the band's thrashy sonics.
Certainly, the combination of James Hetfield's Bay Area-Viking roar, Kirk Hammett's twisted lead ax work and Lars Ulrich's brutal drumming is more than enough to give the average listener the shivers. Then there's the lyrics, some of which have captured a decidedly low point on the thermometer. On "Trapped Under Ice," from 1984's landmark album "Ride the Lightning," for instance, Hetfield announces: "Freezing can't move at all," Hetfield announces. "Screaming / can't hear my call / I am dying to live / Cry out / I'm trapped under ice." The album marks a point in which Metallica became more personal and revealing, something that allowed the group to bring heavy metal, as Stephen Thomas Erlewine wrote in All Music Guide, "back to Earth."
As Metallica continued to follow that mantra on "Master of Puppets" and "... And Justice for All" -- with arrangements that juggled massive emotion with immense complexity and mammoth heaviosity -- the foursome also became one of the busiest touring acts in rock history. Indeed, Metallica became tried-and-true road warriors aching to perform virtually anywhere, whether it was in hot spots like the Middle East and South America, or in the most long john-friendly of places on the planet, like Finland, Iceland, northern Poland and northern Canada, where the group headlined the Molson Ice Polar Beach Party in 1995, according Entertainment Weekly.
And now comes a show in a continent that's colder (the temp once hit -89 °C, or -129°F), windier and drier (it's actually desert) than any other. Antarctica has the highest average elevation of all the continents, and even though it has no permanent human residents, between 1,000 and 5,000 people do reside there at research stations.
Metallica's Dec. 8 concert in a place where only cold-adapted organisms survive follows the success of its film, "Through the Never," a 3-D concert spectacle and apocalyptic story directed by Nimród Antal. The movie was described on rogerebert.com as "a virtual-reality experience that is both ridiculous and sublime, sometimes in the same moment." Much of "Through the Never" takes place on a stage conceived and designed directly for the film, according to the New York Times.
Metal fans who reside in the aforementioned Latin American countries can enter a contest to win an Antarctic cruise that sails Dec. 3-10, and which culminates at the Carlini concert. Ten winners will be chosen for the cruise, which begins in Tierra del Fuego, CNN reports.
To enter the contest, click here: http://www.coca-colazero.com.ar. Contest entry begins on Oct. 28.
FOR FREE to continue reading
✔️ Unlock the full content of International Business Times UK for free
offer available for a limited time only
✔️ Easily manage your Newsletters subscriptions and save your favourite articles
✔️ No payment method required
Already have an account?
Log in
© Copyright IBTimes 2023. All rights reserved.