Mexico Vs. Brazil: Prediction, Kickoff Time And Preview [2014 World Cup Group A]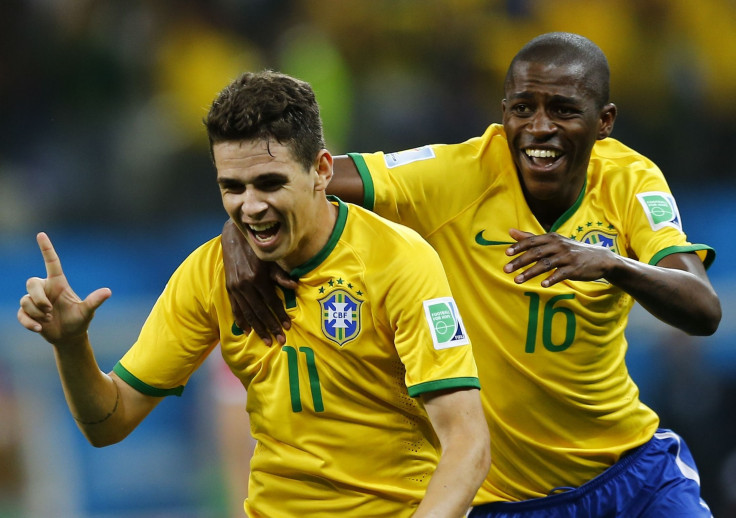 Brazil return to Fortaleza on Tuesday to contest their second game of a World Cup loaded with the weight of expectation of a nation. Mexico will be the opponents, just as they were almost a year ago to the day, again in Fortaleza, again in the second game of a group, this time in the Confederations Cup.
It was there that, with protests flaring outside the Estadio Castelao, Brazil continued to sing the national anthem a cappella as the thousands in attendance followed suit in a powerful demonstration of the support the team engineered, despite widespread unrest with so many other representatives of the nation.
Both that type of stirring preamble, coupled with the high-tempo start to the match it inspired in the Brazilian players, became a recurring theme of that tournament. Now, in the real business of the World Cup, coach Luiz Felipe Scolari will be hoping that a return to Fortaleza yields the same response on the pitch.
In their opening game against Croatia, a 3-1 victory was one of the very few positive things to take from Brazil's display. Brazil started slowly, and unlike at any time during the Confederations Cup, they found themselves behind. The team still failed to come close to reaching its heights, with the exception of a hugely encouraging return to form for Oscar. The Chelsea man's star turn, together with Neymar's ability to create something, despite being short of this best, and a referee who was the most gracious of guests to his hosts, was enough for Brazil to prevail.
But Scolari, a man with vast experience who led Brazil to their last World Cup win in 2002, will be under no illusions that far more will be required if his team are the vanquish the ghosts of 1950. Then, on the only other occasion that Brazil hosted the World Cup, Uruguay stunned the Maracana with a 2-1 victory in the final game to dash the expectations of a nation.
Powerful foes like Uruguay could yet lie in wait as the tournament progresses. But before that they will face a country that has given Brazil as many problems as any in recent years. Six times in the past 15 years Mexico have come out on top against its South American rivals. The most recent occasion was at the 2012 Olympics when Mexico upset Brazil 2-0 in the final at London's Wembley Stadium.
While perhaps not a competition that takes on massive importance for all countries, for Brazil, it was a defeat that really stung. It was supposed to finally be the seleção's time to claim the one global title to so far eluded them in their incredibly proud football history. It ended up going a long way to costing Scolari's predecessor, Mano Menezes, the chance to lead Brazil at the World Cup. And Mexico coach Miguel Herrera has made no secret of the fact that he'd love to be a road block for Brazil once more.
"We spoke with [Scolari] and he said, for them, Mexico is like having a stone in its shoe," Herrera commented in February. "We're hoping to be like a rock, not a stone."
Four of the team on the losing side for Brazil that day will likely be in the starting lineup in Fortaleza on Tuesday. For Mexico, the man who scored both goals at Wembley, Oribe Peralta, will be aiming to add to the goal he scored in El Tri's opening game of the World Cup against Cameroon. While that match ended with just a 1-0 win, it was an encouraging performance that could and should -- if the assistant referee had on two occasions got offside calls right -- have yielded a more decisive victory.
Still, the display provided much cause for optimism, particularly after all that went before it in simply making it to Brazil. That Olympics victory was thought to be the latest sign that this generation of Mexican players could go on and become a real force on the global stage and, for the first time since 1986 on home soil, finally make it back to at least the quarterfinals of the World Cup.
Instead, qualifying was a disaster only salvaged by creeping to Brazil through the back door and a playoff win over New Zealand. Herrera has since brought the vitality back to the team's play with his attacking approach and large personality. Against Cameroon, Mexico gave their best performance of Herrera's seven-month reign. Rafa Marquez ran the show from the center of a back three, Hector Herrera was the quality all-round midfielder he promised to become in those Olympics and Giovani dos Santos finally returned to form for his country as the key link man between midfield and attack.
If Brazil were to play with the same lethargy and openness they displayed, particularly early on, against Croatia, Mexico's vibrant attacking play is capable of catching them cold. Miguel Layun, in particular, will be hopeful of exposing the space Dani Alves inevitably leaves in behind him. It must be said, though, that Cameroon also played into Mexico's hands, with a defensive approach that will not be matched by Brazil.
The gaps at Mexico's defensive end could ultimately be more cavernous and more consequential, than in Brazil's. To the right of Marquez, Francisco Rodriguez is a defender equally lacking in pace, while Paul Aguilar on that side is the weaker of the two wing-backs. Whether, as against Croatia, it is Hulk that operates on the left (providing he recovers from a slight hamstring problem in time) or Neymar moves back to that role, there will be space to exploit. And coupled with an improved performance that must be expected, and perhaps a recreation of the rousing start in the stadium 12 months ago, Brazil should ensure Mexico remain just a stone in their shoe.
Prediction: Brazil 2-1 Mexico
When and where: The Group A match will kick off at the Estadio Castelao in Fortaleza at 3 p.m. ET.
© Copyright IBTimes 2023. All rights reserved.