Michael Avenatti Name-drops Trump, R. Kelly In $20M Nike Extortion
Michael Avenatti, the celebrity Los Angeles lawyer who shot to fame representing porn star Stormy Daniels against president Donald Trump, found himself in a huge world of legal hurt on the same day (March 25) with New York City arresting him for attempted extortion and California filing a case accusing him of wire fraud and bank fraud.
Avenatti's stunning turnaround from outspoken Trump critic to probable felon was stunning and unexpected. Avenatti faces jail time and hefty fines if convicted in both New York and California.
In New York, federal prosecutors at the U.S. District Court for the Southern District of New York said they will charge Avenatti with attempting to extort up to $25 million from Nike Inc. by threatening to make damaging charges against the sports gear and shoe company.
Avenatti was arrested 15 minutes after he announced he'd hold a press conference Tuesday at which he said he'd reveal information about a high school and college basketball scandal involving Nike making illegal payoffs to athletes.
Avenatti has since been released on a $300,000 bond.
In California, the U.S. Attorney for the Central District of California, Nicola T. Hanna, announced the filing of a 197-page complaint accusing Avenatti of wire fraud and bank fraud.
The indictment alleges Avenatti embezzled money from a client's $1.6 million legal settlement to cover personal expenses and rescue his troubled coffee business. Avenatti also stands accused of bank fraud in the California case.
Prosecutors say he gave a Mississippi bank fictitious personal tax returns to secure more than $4 million in loans. They claim Avenatti hadn't even filed his personal tax returns for the years in question.
Southern District of New York prosecutors say Avenatti was caught on video while trying to extort more than $20 million from Nike. Avenatti even name-dropped his two most famous adversaries (Donald Trump and singer R. Kelly) to illustrate the damage he could do to Nike.
Avenatti allegedly told Nike laywers that "90 percent of that is going to be bulls--t because it's always bulls--t 90 percent of the time. Always. Whether it's R. Kelly or Trump, the list goes on and on — but 10 percent of it is actually going to be true, and then what's going to happen is this is going to snowball."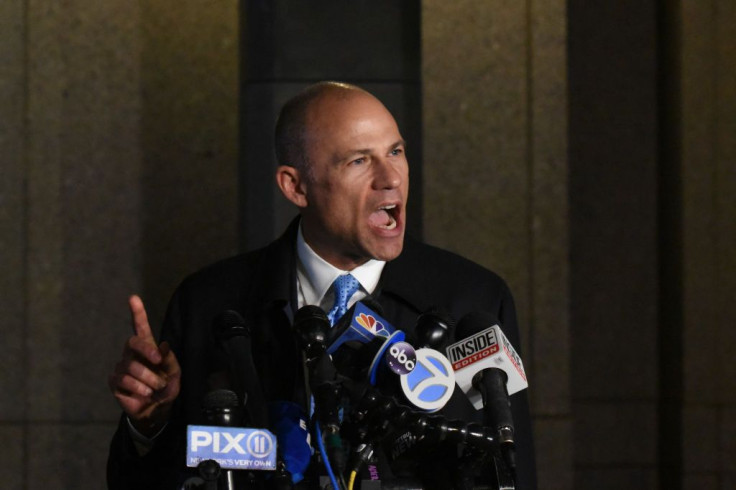 Prosecuitors said two Nike attorneys secretly working with them used hidden cameras to record Avenatti during a meeting on March 21. Here, Avenatti is seen demanding a $12 million "retainer" fee to stay silent about claims Nike made illegal payments to high school athletes.
The court filing also shows Avenatti saying that he and an alleged co-conspirator (lawyer Mark Geragos) might need as much as $25 million in billings to conduct a supposed "internal investigation" for Nike.
Avenatti told the Nike lawyers that he'd call a news conference if his demands weren't met. He also said that "as soon as this becomes public, I am going to receive calls from all over the country from parents and coaches and friends and all kinds of people."
© Copyright IBTimes 2023. All rights reserved.
FOLLOW MORE IBT NEWS ON THE BELOW CHANNELS