Michael Jackson family members plan tribute concert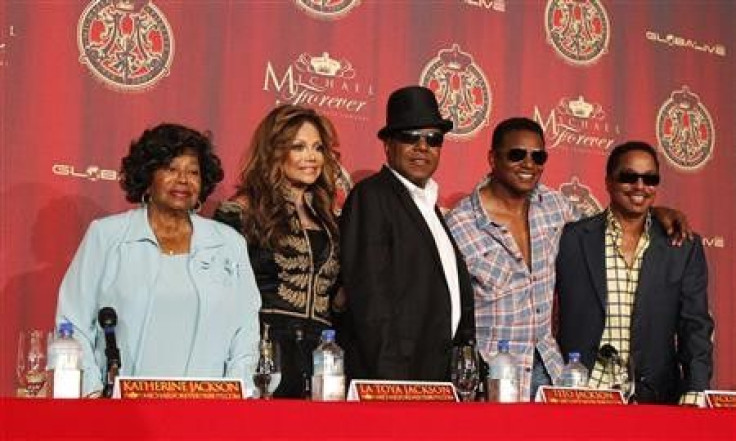 Several members of Michael Jackson's family unveiled plans on Monday for a tribute concert to the late King of Pop, but performers were unnamed leading to a less-than-thrilling announcement for the "Thriller" singer.
The tribute show, supported by Jackson family matriarch Katherine Jackson, will be held on October 8 in Cardiff, Wales at the Millennium Stadium, which holds about 75,000 people. It will be broadcast live via satellite on pay-per-view television and into movie theaters around the world, some of which will screen it in 3D, said promoter Global Live Events.
Katherine Jackson told reporters at the unveiling in Los Angeles that she is proud of the event and the caliber of singers performing. No names were announced on Monday.
"If my son was here today, he would feel the same way, and so I'd like to say thank you very much for helping to keep my son's legacy alive," she said.
Michael Jackson, who rose to fame in his family of singers then embarked on a solo career that included smash hits such as "Thriller" and "Billie Jean," died in June 2009, of an overdose of the surgical anesthetic propofol he used as a sleep aid.
His physician at the time, Dr. Conrad Murray, has been charged with involuntary manslaughter in Jackson's death. He has pleaded not guilty and a trial will start in September.
Jackson's brother, Jermaine Jackson, tried in vain to mount a tribute concert in Vienna in 2009, but plans were scrapped after he struggled to get big-name acts and the event's organizer went out of business.
Jermaine, and Michael Jackson's father Joe, were not on hand at Monday's announcement. Instead, Katherine was joined by family members, Tito, Jackie, Marlon and La Toya.
"I know that this tribute will be something spectacular," LaToya told reporters.
© Copyright Thomson Reuters 2023. All rights reserved.