Michael Kors' Taxicab Yellow And Neon Orange A Nod To New Yorkers' Style At New York Fashion Week [PHOTOS, VIDEO]
From the designer who oft finds inspiration through travel, designer Michael Kors instead used New Yorkers as his muses for his Fall 2013 collection at New York Fashion Week, with a vibe he called "urban athleticism meets uptown polish" in his notes. According to Stye.com, the designer even directed models to be "fast-paced, athletic, and chic," a la New York. "You race all over from the Lower East to the Upper East Side…Make them die with envy!"
Kors drew inspiration from his color palette right off the streets of New York City, with an eclectic mix of neon orange, taxicab yellow and royal blue juxtaposed with white and hints of olive and charcoal. But of course, a collection channeling a typical New Yorker's wardrobe would not be complete without tons of basic black and charcoal to balance these electric hues, which had some critics, like Cathy Horyn of The New York Times, divided.
"At first I raised a big fat eyebrow at Michael Kors's athletic romp — well, it was 10:30 a.m. and who can look at taxi-yellow serge at that hour?" she wrote. "Or a mink coat in bright blue camouflage. But then I decided it was all a pretty great sendup to just about everything that beats and honks in New York."
Much of the collection -- both for looks with and without color -- was balanced through minimalism with a focus on sleek structures. Some silhouettes had waists nipped in by bold belts and a few metallic accents here and there for good measure. For men, it was all about the overcoat, with oversized jackets and larger pockets to match. Moto tailoring, dramatically exposed zippers and leather detailing paired with elegant leather gloves added to the edge of the collection without subjecting its glamour, or what Kors called "urbane sportif."
One noticeable aspect of the show was that it appeared Kors used Fall as an extension of the Spring 2013 season, reminiscent through the oversized ski-like googles and the way the color palette was arranged. This time around, Kors replaced the stripes and hints of 1960's mod of Spring with his urban camouflage, most luxuriously in mink, and dogstooth checks nestled between the pops of color for Fall.
But the neon brights weren't nearly as show-stopping as the final look modeled by Karlie Kloss: an entire dress made out of glimmering crystals with a black peplum overskirt with a long train. In fact, there were multiple versions of this mini dress with a long peplum train, popularized by Raf Simons of Dior, in Kors' poppy yellow, orange and blue.
To stay up-to-date with the trends and goings-on of New York Fashion Week, follow me on Twitter, @nadinedeninno, and check out IBTimes' special coverage page for the latest fashion news.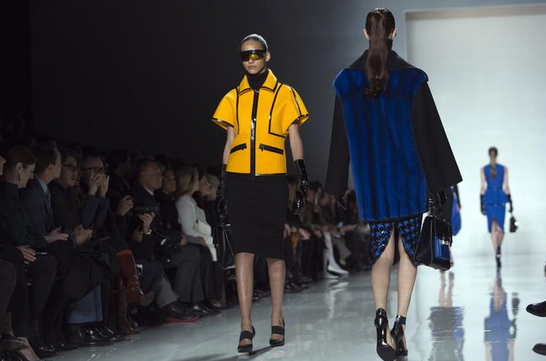 © Copyright IBTimes 2023. All rights reserved.