Michigan Revolutionary War Cemetery Damaged, Headstones Cracked In Half In Flat Rock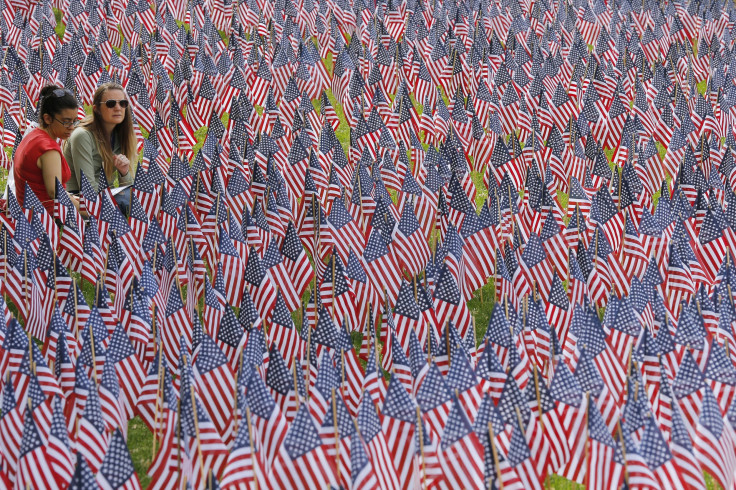 Headstones were cracked in half by vandals at a southeastern Michigan cemetery famous for being the original burial site of a Revolutionary War soldier and his family, reported the Associated Press Tuesday. The news of the damage comes on the heels of the Memorial Day holiday, which honors those who died in service of the United States.
Ron Klingel, groundskeeper at the Vreeland cemetery in Flat Rock, a town about 30 miles south of Detroit, called the incident a "terrible shame." The cemetery was opened by Michael Vreeland, who served in the Revolutionary War and founded the town of Flat Rock. He was buried at the cemetery, but his remains were later moved. The plots at the small location were reserved for relatives of Vreeland.
The vandals struck more than a dozen tombstones that dated back to the early and mid-1800s, according to the Detroit Free Press. Flat Rock Police Lt. Kevin Murphy told the paper that no arrests had been made, and the motive for the destruction of some 14 gravestones was unclear. Some of the damaged plots did belong to veterans, but authorities didn't believe that was a motive.
"It was indiscriminate," Murphy said to the Free Press about the damage at the cemetery. "I don't think it was directed at veterans, from what we gather so far."
The Flat Rock Historical Society reported on its Facebook page that the cemetery had undergone extensive restoration in 2014 with aid from the city, but now "all of the stones that had been meticulously repaired a few years ago are again in pieces." It urged anyone with information to call police.
The Michigan cemetery was not the only historical U.S. site with military ties to be damaged around Memorial Day weekend. Authorities believe looters were to blame for damage done last week to Petersburg National Battlefield, just south of Richmond, Virginia. The battlefield was the site of a long Civil War siege, and looters apparently dug up portions of it in search of relics they could sell.
© Copyright IBTimes 2023. All rights reserved.