'The Mick' Spoilers: Episode 17 Synopsis Released; What Will Happen In Season 1 Finale?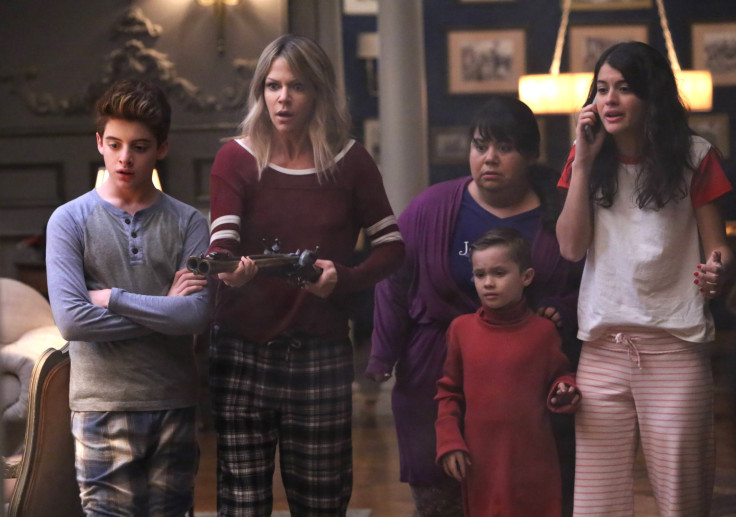 Mickey (Kaitlin Olson), Alba (Carla Jimenez), Jimmy (Scott MacArthur) and the Pemberton kids are getting a couple of unexpected visitors in the Season 1 finale of "The Mick."
According to the synopsis for Season 1, episode 17, life in the Pemberton mansion becomes even more chaotic when Sabrina (Sofia Black-D'Elia), Chip (Thomas Barbusca) and Ben (Jack Stanton) catch a pair of intruders trying to break in. While the episode summary doesn't name the trespassers, the preview clip for the episode reveals that the intruders are actually the kids' dad and mom, Christopher (Laird Macintosh) and Poodle Pemberton (Tricia O'Kelley).
Christopher and Poodle made their debut appearance in Season 1, episode 1 of "The Mick," in which they flew out of the country after they were arrested by the FBI for fraud and tax evasion. Although Christopher and Poodle have not appeared on the show since the premiere, the two were heard over the phone in a couple of episodes following the premiere.
READ: Carla Jimenez talks about her audition for "The Mick"
In fact, in Season 1, episode 6, Christopher sent a voicemail to Chip right after the young Pemberton surrendered his phone to the feds. "Hey, buddy. It's dad," Christopher said in his voice message. "I've got to make this fast. I'm really sorry we haven't been in touched, but it's very dangerous for us to call. Look, I wish I could be there for your lacrosse games. I hope that bonehead coach is giving you the playing time you deserve. Anyway, I need you to be brave for me, son. We don't know when we can come home, but your mom and I care about you, kids, more than anything. We'll fix this, Chip. We love you."
After receiving the voicemail, the feds managed to trace Christopher's location. But apparently, as seen in the preview clip for the episode, Christopher and Poodle are still on the run from the feds. So even though they have managed to come back home, Christopher and Poodle are not staying for good.
In the preview clip, the husband and wife asks Mickey to take the children with her. "I can't just take your children," Mickey tells the pair.
"How about a million dollars?" Poodle asks as she shows a bag of money to her sister. "I can certainly give it a good try," Mickey quickly backtracks.
But what do Christopher and Poodle mean when they ask Mickey to take the kids with her? Are they telling her to legally adopt them?
"[Adoption] hasn't come around yet," Jimenez said in a recent interview with Zimbio. "I think they're still learning to care for them."
"We don't take ourselves too seriously," added Jimenez. "But if anything were to happen that was a little mysterious, that would be in Season 2. I think more will be delved into that. [But now] Mickey's still trying to figure out her place with them and Alba's just Mickey's friend, just there with them hanging out. She's still helping care for the kids because she has that innate responsibility to want to take care of them."
Also in the episode, Mickey tries to protect the kids in a case of mistaken identity.
"The Mick" Season 1, episode 17 airs on Tuesday, May 2, at 8:30 p.m. EDT on FOX.
© Copyright IBTimes 2023. All rights reserved.